What are the challenges in project management?
Project management is a dynamic and evolving profession that can lead to incredible career opportunities. However, like most fast-paced industries, it's not without challenges. Understanding how to navigate project management challenges and find pragmatic solutions will set you up for career success.
By taking a closer look at two of the major industries for project managers in Australia -  construction and healthcare - we can help you identify what the challenges in project management are and how you can use them to your advantage. 
Regardless of your chosen industry, it's clear that project management trends are evolving, so it's important to keep your skills up to date with training and further education. You may just be starting out in the profession, or you may already be climbing the project management career ladder. Whatever your situation, choosing to study an online project management program will give you practical knowledge, a respected qualification and industry exposure.
What does a project manager do?
According to the Australian Institute of Project Management (AIPM), project management is both an art and a science. It combines hard skills such as budgeting and scheduling with soft skills such as people management, communication and empathy. 
Project managers oversee projects of all shapes and sizes in every kind of industry. They help establish the objectives of a project and recruit subcontractors and other stakeholders. They devise and manage budgets and timelines, create and deliver reports and reviews, and see the project through to completion.
As a Project Manager with EY in the Real Estate Advisory and Project Management Team, Brisbane-based Tegwen Butler is constantly on the go. 
"Every day is different," she says. "I was at Stradbroke Island on Monday, checking out one of my projects. I'm at UQ today. And then I'll be up on the Sunshine Coast on a senior's living project on Friday.
"If you're an organised person, if you can easily build relationships and if you can cope well under pressure, you'd make a fantastic project manager," she adds. "It's a fantastic career. There's so much diversity in your role day-to-day. It's exciting.
"You're managing a program, a budget, and you're managing stakeholders. So at the end of the day, our biggest thing is, whether we're managing the design or the construction, we're the person that brings everyone together."
Where do project managers work?
Project managers are essential in a range of industries, such as IT, finance, retail, hospitality, construction and healthcare. They are also employed in the public and private sectors.
You'll find them overseeing the construction of a building, helping to manage the development of software, assisting in a business expansion or improving the processes of a large organisation. Project managers make change happen to improve the lives of members of an organisation, the local community and even the nation.
There has always been a need for project managers, but the role is evolving. In the 2021 AIPM and KPMG Project Management Survey report, 71 per cent of respondents surveyed believed that projects were becoming more complex than they used to be. Project managers today are required to have a broad skill set, both technical and soft, to manage these increasingly complex projects.
Project management challenges
From workforce challenges, tightening budgets and pressure from clients to unexpected delays and subcontractors letting them down — project managers experience a range of challenging situations. This is even the case when a project runs smoothly. But there are several challenges that are particularly prevalent and they are encountered by project managers across every industry.
1. Unpredictability, even chaos
Project managers are natural organisers. With multiple tasks and projects to manage, they have to be able to plan, schedule and mitigate risk. 
One of the challenges for project managers is that any project, no matter how well-planned, well-funded and well-staffed, is going to encounter situations that were unforeseen. It's one of the biggest challenges of project management — that you can't plan for everything.
But strong leaders, argues AIPM, are not those that are always in control. It's just unrealistic. Good project managers embrace chaos and learn from it. They're able to adapt and respond to problems in project management and get their team involved in brainstorming solutions.
As one of the core subjects taught in RMIT Online's Graduate Diploma in Project Management, studying Evaluating and Managing Project Risk will equip you with the skills and techniques you need to identify and manage risk effectively. 
2. Global uncertainty
At its essence, project management involves taking a problem, devising a solution and then dealing with smaller problems that no one foresaw along the path to completion. Some of those problems might be small and specific to an individual project. Others are much bigger, even global.
"COVID was obviously a big challenge," says Butler, reflecting on some of the issues in project management she has encountered in her career. "It caused material delays and cost rises, plus the shutdowns — it was a lot to navigate. But I think everyone's been through it once now, so everyone's got a bit of a better handle on it."
According to the Project Management Institute (PMI), COVID created an avalanche of abrupt, radical change for employees at all levels. To combat this, project managers must lead with empathy, flexibility and vulnerability to keep their team connected. As expectations shift, it's critical for leaders to proactively upskill, particularly when it comes to listening techniques and their overall emotional intelligence.
3. Unrealistic expectations
Even the most adaptable clients can have unrealistic expectations, which is why many project managers spend a portion of every working day managing expectations. It's one of the most common project management challenges.
As a client-side project manager, Butler is well practised in managing expectations.
"I got delivered a brief for this old, dingy classroom out at Gatton at UQ to be turned into this state-of-the-art laboratory, which is a lot of work," she says. "And I got a cost estimate for it and told the clients, and they were all very shocked. But I wasn't, because I know the level of work that needs to happen."
That's where communication is key. Butler's job wasn't just to deliver the news to her clients. It was also to help them see the bigger picture and talk them through the budget so they could also get on board.
4. Managing workloads
Not all projects wrap up in a timely manner, and project managers often find themselves juggling multiple projects at one time. Keeping on top of these is a challenge.
"I think another big challenge for project managers is not saying yes to everything," says Butler. "Learning how to balance your time is a big thing as well. In the design stages of projects, you can probably juggle more than two. But then when it comes to construction, if you have, say, four on the go, it would just be a bit of a nightmare."
Task management and scheduling strategies are key here. This can look like breaking down complex tasks into smaller, more manageable tasks, using advanced spreadsheets, the kanban methodology and using Gantt charts and calendars to depict who does what and when.
5. Accepting change
Whether it's a client changing their mind, staff and subcontractors leaving or joining a project, budget alterations or design updates, the only constant in a project manager's life is change. 
A healthcare project manager, for example, faces many challenges in a post-COVID world — a burnt-out workforce, changing health policies and procedures, and tightening budgets.
But for project managers skilled and qualified to deal with these challenges, working in a hospital or for a healthcare provider can be greatly rewarding.
Upskilling for success
Okay, sure — there are many challenges. But that's also where the opportunities lie. 
Project managers can tackle the challenges of project management and stay ahead of their peers by upskilling, engaging in professional development and gaining further qualifications. 
In combining soft and hard skills, project managers need to be confident team leaders. When it comes to technical skills, there are many project management tools that can help. Project managers with well-developed soft skills, such as communication and people management, are becoming more sought-after.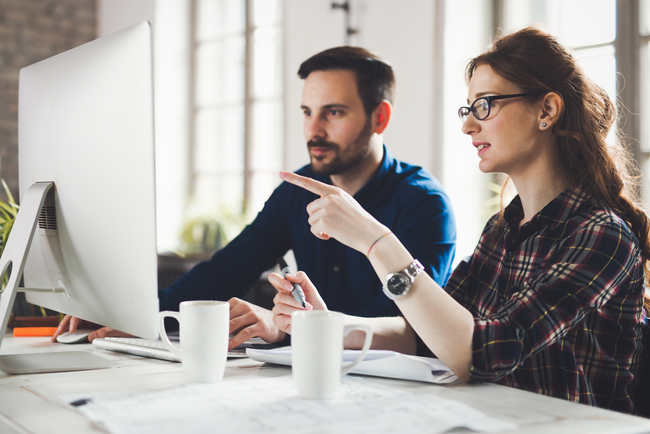 Project management in construction and healthcare
Two industries where you will find project managers working on a variety of projects are construction and health. Given how much growth these industries are experiencing, there are currently many career opportunities for skilled and qualified project managers.
The construction industry relies on project managers to oversee the construction of everything from a home to a highway. Healthcare providers need project managers to improve efficiencies and keep healthcare costs down.
As the population grows and ages, the need for more construction and healthcare projects will increase. Project managers are a vital part of this growth. And there will be increasing opportunities for skilled project managers to enter these industries.
What do project managers in construction do?
There are more than 42,000 construction project managers working in Australia.
As one of the nation's largest employers, the construction industry grew from 652,800 employees in 2001 to more than a million in 2021. And while the past couple of years have been difficult for the industry, it's now seeing growth, with an estimated 1.3 million people to be employed in construction by 2025.
Construction is perhaps the area where most of us can picture a project manager — donning a hard hat, poring over plans and instructing builders. But if this is what you're picturing, you need to review your image of a project manager in construction.
These professionals are not always on-site, and quite often you'll find them managing budgets, scheduling trades, reviewing designs and managing subcontractors. They plan, organise and supervise the construction of buildings and civil engineering projects.
And the role is constantly evolving thanks to technology. Today, the role of a project manager in construction can involve using various technical tools, including 3D modelling and software meant for tasks such as risk management.
What do healthcare project managers do?
All healthcare providers, from the smallest clinic to the largest hospital, rely on project managers. Project management is used to implement policies and processes in relation to how a facility operates, how staff are managed and how patients are treated.
A healthcare project manager spends a lot of time with healthcare staff along with members of the public. They can also be involved in specific clinical trials and the day-to-day running of a medical facility. They will help develop and deliver strategies to improve the way a facility is run, to oversee new projects and investigate how to improve efficiencies.
An effective project manager helps keep costs down while improving patient outcomes. Healthcare is complex and there is a lot at stake; the Federal Government has committed to investing $132 billion in 2022–2023 in our healthcare system and has budgeted $537 billion over the next four years. Project managers are vital to ensuring that money is well managed and well spent.
According to the Australian Institute of Health and Welfare, there are more than a million people employed in the nation's health and welfare industries. They deliver a range of services in both the public and private sectors. It is one of the nation's largest industries, but it's also one of the fastest growing.
The world has learned many lessons from the COVID-19 pandemic. But perhaps the hardest is that our healthcare system is under a huge amount of strain.
A quality healthcare system is vital to a functioning society. Hospitals, healthcare providers and allied health services are always in the process of improving operations through various projects. More than ever, they need project managers to plan, organise and supervise the rollout of these projects.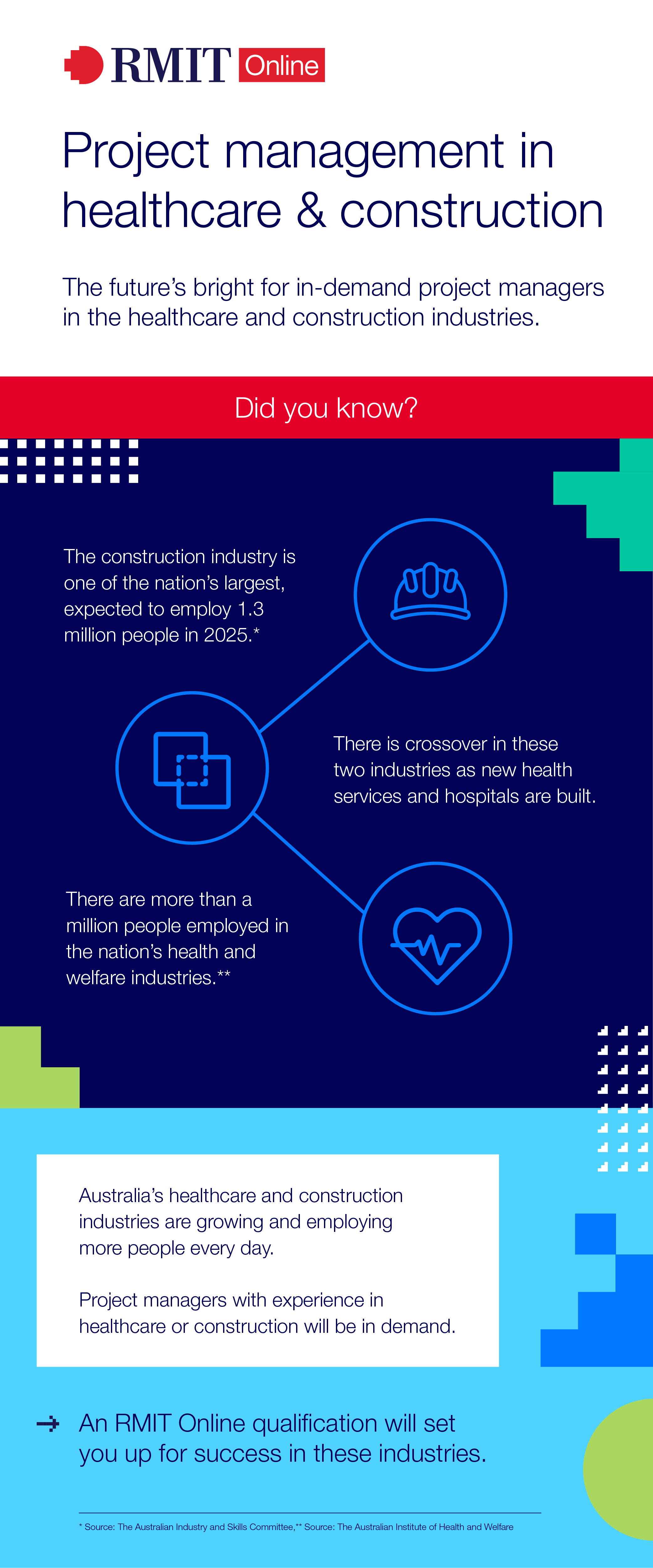 Flexibility and collaboration across multiple industries
All project managers need to have an extensive skill set, and keeping up to date with new advancements is crucial. There are times when a project manager may be required to work across more than one sector, such as in healthcare and construction, or collaborate with different industry bodies to ensure a successful outcome for their clients.
For example, the role of a project manager in construction might not simply involve overseeing the construction of a building. They might also be called on to manage, say, the installation of medical equipment in a working hospital. In that case, they will have to juggle the needs of a functioning healthcare facility, where staff will be required to continue doing their jobs alongside a construction site and subcontractors.
Project manager salaries
The industry indicates there is a skills shortage for project managers in Australia. AIPM reports that around the nation, a range of organisations are suffering from skills gaps in project management. They need qualified project managers — and fast.
The 2021 AIPM salary report, which surveyed close to 1,400 project managers, reported that job vacancies for project coordinators, managers, directors and others in project management were high.
According to Seek, the median salary for a project manager is $120,000 to $140,000. For project managers working in health, annual salary expectations sit at $100,000 to $120,000, whereas the median salary for project management professionals in construction is slightly higher at $120,000 to $145,000.
What skills do project managers need?
AIPM reports that as technology and software assist with the hard skills of project management, softer skills are becoming even more desirable. It is now more important than ever to be a good communicator if you want to be a respected project manager.
The skills a project manager needs to succeed are many and varied. Let's take a look at some important ones.
Soft skills
Communication. Project managers need to be confident, articulate communicators, in both written and verbal forms. They need to be able to speak to people across a range of industries, from the most junior worker to the most senior executive.
Conflict resolution. Even the smoothest projects can be stressful and tension can run high, so project managers need to be able to diffuse tense situations and resolve conflicts.
Flexibility. Creative thinking, adaptability and innovation are also important qualities for managing problems and seeing issues from multiple perspectives.
Enthusiasm. Project managers need to be self-motivated and be able to motivate others.
Ethics. In charge of big budgets, multiple teams and lots of decisions, project managers need to be exceptionally trustworthy.
Hard skills
Planning. Project managers must love a plan, from large overviews of the projects to day-to-day schedules and timelines, all to get the work done.
Scheduling. They need to outline all the tasks that must be done, by who and by when, clearly and articulately.
Budgeting. Blowouts in the budget can ruin even the best project, and so project managers need to create realistic budgets and stick to set fiscal plans.
Software expertise. Knowing management software and other tools is vital. Software is available for budgets, scheduling and management, and so it's almost impossible to do most projects without some kind of tool.
Risk management. Every project has risk involved, so project managers need to be able to identify, manage and mitigate risks and seek solutions.
Other general skills
Organisation. Being organised is essential. A project has many moving parts, so project managers need to have a handle on the many variables.
Networking. A successful project manager gathers together the best people to successfully see a project to the end, so networking is essential to build and maintain relationships.
Optimism. Pessimists need not apply. Project managers have to believe a project is doable, even in the face of difficulties and roadblocks. The best project managers know that despite the hurdles, they will get there in the end.
Confidence. Project managers need to be strong leaders, modelling the qualities of confidence, patience and calm.
Generosity. They also need to be able to celebrate success and praise those around them.
Desirable personal attributes from a project manager's perspective
Putting these skills into practice, Butler says project managers also need to be:
Assertive and confident. "We're there to ensure the quality is there and the quality's being delivered," she says.
Ready to work in tricky situations. "If you think about a contractor needing to do a refurbishment in the hospital, you still need the rest of the hospital to be live and operational," says Butler. "So you need to make sure that as a project manager, you are engaging with stakeholders and you are telling them exactly when work is happening."
Able to adapt to unusual sites. "I'm working on installing a micro CT in another lab that has two magnets that can't get turned off," she adds. "So there's circulation areas to the magnets that you can't cross. If you have a pacemaker, for example, you can't go in the room. We need to demolish part of a wall to get this big equipment in, and it's actually quite close to the magnet. Communicating with the contractors and notifying them of the high-risk environment that they're working in is essential."
Willing to accommodate other professionals. "There are two scientists that also work in that laboratory I'm working on, and they want to remain working while we're demolishing and installing this piece of equipment. So I need to make sure we're all on the same page."
Ready to network. "Our network is really big, and at the moment, in this current climate as well, it's important that we're working with people we can trust."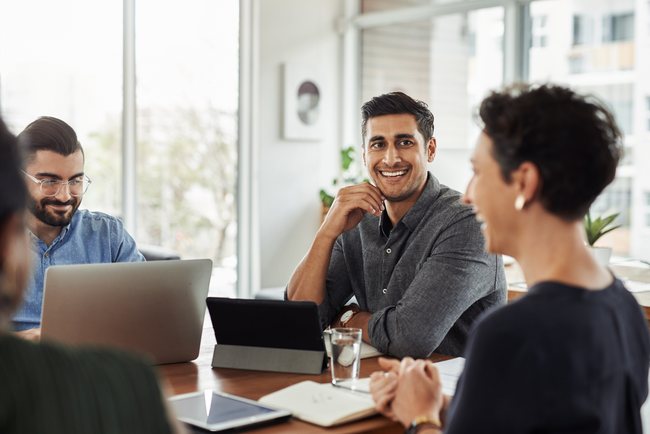 How to become a project manager
There are several ways to start or advance your career in project management, even if you're moving from another discipline. According to the AIPM, some project managers are considered 'accidental project managers'. They're already doing the job but without the job title or training and, at times, without even realising it.
Project management is a skill valued across many roles, and it's no surprise that employers are wanting to see industry-recognised qualifications and a skill set relevant to contemporary project management. Having a recognised qualification is now a must, and there are a variety of graduate and postgraduate programs available in Australia.
RMIT Online's project management programs set up project managers to work in a variety of industries for various project management careers.
Australian project management qualifications
It wasn't so long ago that experience was all a project manager needed to succeed. While experience is still valued, those who are committed to further training are more likely to fast-track their careers. There are various qualifications for a project manager, from undergraduate degrees to postgraduate certificates and masters degrees.
In the 2021 AIPM and KPMG Project Management Survey report, 53 per cent of project professionals said they believed businesses were not investing enough in developing skills that would ensure projects would be successfully delivered. This is despite the high levels of spending on infrastructure and projects. Project managers and professionals that invest in upskilling and formal qualifications set themselves ahead of their peers.
Those already working in the construction industry can upskill easily with RMIT Online's programs. If they have experience but no formal qualification, a graduate certificate or diploma will help them get that industry credibility they're looking for.
Professionals who are involved in the running of a healthcare facility might be thinking about how they can become healthcare project managers. RMIT Online's programs help those already in the industry who are keen to earn the qualifications that will help them climb the ladder and secure a more senior role.
So whether you're just starting out in project management or wanting to move across from another field, a formal project management qualification can be very valuable.
So why does a qualification matter?
It tells future employers that you are committed to the profession.
It leads to better pay and to opportunities for more senior positions.
It enables you to get certification from industry bodies such as AIPM.
The latest trends in project management
As companies move towards bigger and bigger projects, project managers of the future will be required to manage large, multidisciplinary teams, both onshore and offshore. As these complex projects become more commonplace, most project managers will have to become confident with managing large-scale projects.
There are several new trends in project management, including the need for remote and virtual teams, as well as flexible work conditions for many workforces. Project managers will need to be agile, learn how to run virtual meetings and have exceptional communication skills in this new world of working.
If you want to improve these skills and learn new ones, there are several ways you can futureproof your career. Joining AIPM and the Project Management Institute will help — you'll be invited to in-person and online events, be given networking opportunities and be able to engage in mentoring. Ongoing professional development and further study will also help project managers stand out from the crowd.
Set yourself up for future opportunities in project management
While there is no doubt that project management professionals face many challenges, they are always focused on the solution. 
A postgraduate degree can give you the skills and confidence to further your prospects, enable you to strive for leadership positions and teach you specialist knowledge from the industry's best.
If you're new to the industry, find out how to speak like a project manager.
Studying online is one of the best ways you can enhance your career. RMIT Online's programs are highly respected due to their strong links with industry and high-quality courses that teach relevant skills.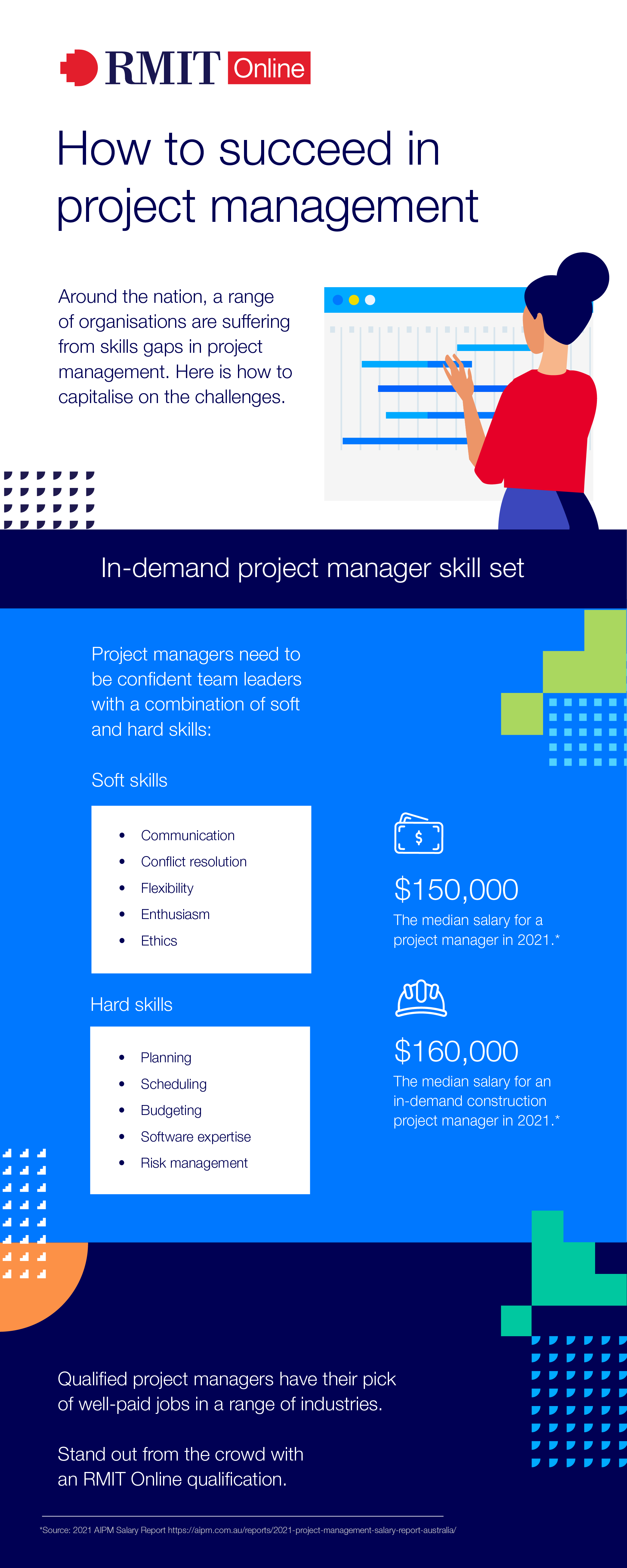 Why it's time to get studying
RMIT Online's Graduate Certificate and Graduate Diploma in Project Management are cost-effective ways to give you the skills that employers want.
Need a reminder on why qualifications matter in project management? Here are a few reasons to further your studies:
There is strong growth in the sector, with project managers with postgraduate qualifications attracting strong salaries and career opportunities.
As governments invest in large-scale projects, the opportunities for project managers are increasing. For example, in the 2020–2021 federal budget, the government set aside $100 billion over 10 years for an infrastructure program.
The methodologies and technologies used by project managers are constantly changing. Those who don't engage in further study risk getting left behind.
Managers in a range of industries are seeing the benefits of having project management skills, even if they work outside project manager-specific roles.
Students can use the graduate certificate as an entry point into RMIT Online's respected MBA program.
For students wanting to take it a step further, consider RMIT Online's MBA.
RMIT Online's project management programs
RMIT Online's project management courses have a strong practical focus. This means graduates graduate with skills that the relevant industries demand, making them highly employable.
There are two pathways to choose from in the RMIT Online program. 
The Generalist Project Management pathway offers the fundamental knowledge and practical skills that enable graduates to manage more complex projects with confidence. Then there is the Specialist IT Project Management pathway. This is for IT project managers who want the skills to oversee complex IT and IS projects.
Students learn a variety of important skills for their careers, including:
Using project management tools
Report writing
Leadership
Governance
Stakeholder management
PMBOK principles
Managing people with different cultural backgrounds
Critical planning and risk assessments
Managing a virtual team
Why students choose to study project management with RMIT Online
Past students report that RMIT Online's project management courses helped prepare them for their ideal jobs or enhanced opportunities in their current roles.
Other reasons students choose RMIT Online include:
RMIT's programs are taught by industry experts who are leaders in their field.
Students want a qualification fast and enjoy the brisk pace of RMIT Online's programs.
They want a qualification endorsed by AIPM that offers a variety of pathways.
They also want to learn how to oversee complex projects and manage all phases from start to finish.
Students come from a variety of backgrounds. There are those keen to change careers, while some come from the construction industry and are wanting to move into management. Others are already working in the project management field but are keen to climb the ladder and solidify their practical knowledge with an industry-recognised qualification. And some want to study to fill in the gaps in their knowledge.
Expand the scope of your project management capabilities
There is no doubt that today's project managers face many challenges. Those working in healthcare or construction in particular have experienced unprecedented challenges. But increased investment is also delivering new opportunities for motivated professionals.
The demand for project managers across all industries, including construction and healthcare, will continue to grow. If you're ready to make a change, RMIT Online's Graduate Diploma in Project Management program is the way to get started. Find out more today.