What qualifications do I need to be a project manager?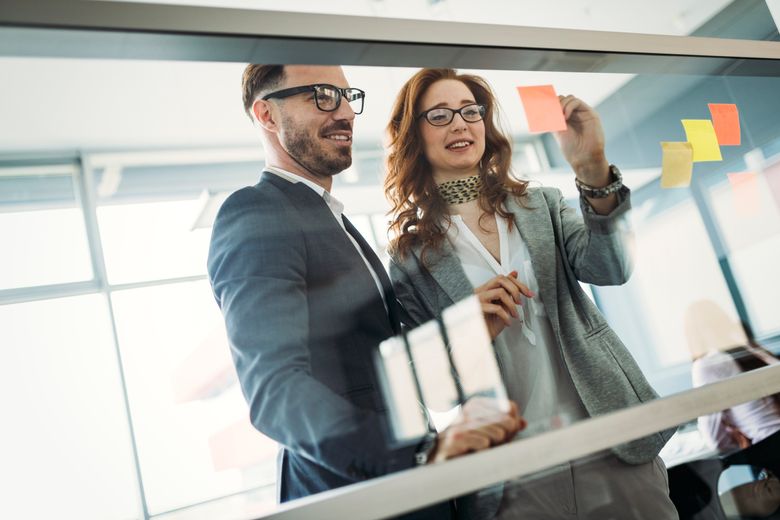 The redevelopment of the Geelong Arts Centre means a lot to project management professional Elizabeth Cook. It's not just because she played an essential role on a $38.5 million project in her hometown, but also because Cook was named Victoria's Future Project Leader of the Year for her work.
The award is an acknowledgement of years of work experience that's built on a qualification focused on project management skills.
For Cook, it caps off what may be the most rewarding project management experience – managing a project from concept to conclusion.
"The space will provide a centre for the expansion of performance and arts-based projects –a stunning transformation to not only witness but to be a part of," says Cook.
Project management is a career that values years of experience, industry certification programs and increasingly academic qualifications. In fact, employers generally expect you to have project management qualifications to work as a project manager in Australia.
What are the responsibilities of a project manager?
The Australian Institute of Project Management is the professional body for project managers who recognised Cook in their annual project management achievement awards. They list the responsibilities of the project manager as: 
Initiating: work with project stakeholders to define the scope of the new project and agree on expected outcomes.
Planning: work with project stakeholders to develop the project plan – the evolving master document outlines scope, cost, timelines and risk management.
Executing: manage and guide the team as they carry out the work in the project.
Monitoring: throughout the execution, continually compare actual results with the project plan.
Closing: review completed work, release resources and close contracts.
Whether you are initiating, planning or already executing your project management career, you can outperform others in managing these five responsibilities with a formal project management qualification.
Why do I need a formal project management qualification?
Formal training tells your prospective employers that you can walk into a project management role and know what to do. However, while relevant work experience can convey a similar message, there are so many variables in the project management world that it's tough to compare one experience with another. 
The right project management qualification conveys your commitment to the profession and leaves employers in no doubt about your abilities. That's important because applicants for project manager roles and demand for jobs in general normally outstrips supply.
Once you've secured your project management role, you'll be pleased to hear that a formal project management qualification can lead to a higher salary.
Research by KPMG found that those with a higher education qualification earned more than those who just finished year 12. But, more importantly for project managers, they also earned more than those from an average vocational education and training (VET) qualification.
Here are a few more reasons why you need a formal project management qualification.
Gain the prerequisites for your next job
Using its privileged access to job advertisements and jobseekers' profiles, SEEK has determined that employers expect you to have qualifications to work as a project manager in Australia. A quick browse through project manager job listings confirms that many employers include qualifications as a pre-requisite.
Recruitment experts confirm that successful project managers usually have formal qualifications.
The Australian Institute of Project Management (AIPM) also highlights employers' preference for tertiary qualified candidates. AIPM lists higher education at the top of relevant education options in their overview of the project manager job description – above VET and short courses.
Obtain and enhance your project management certification
The Certified Practising Project Practitioner (CPPP) is the entry-level certification for registered project managers. Administered by the AIPM, this certification is for team members who contribute to the management of projects.
While most AIPM certification is based on workplace competency, the CPPP acknowledges your completion of an AIPM endorsed course.
If you already have AIPM certification, a project management qualification will do much more than formalise your work experience. The right qualification will build on your fundamental knowledge with contemporary skills and practice while broadening your technical skills.
Take the next step in your management career as a senior project manager
The move from project manager to senior project manager, project director, program manager or program director is a substantial step into a management position. While the project manager generally looks after one distinct project, the program manager looks after a program of interconnected projects.
Project managers have one specific deliverable to focus on. Program managers deliver business growth and transformation by driving the strategic benefits of multiple projects.
The experienced project manager's salary sits in a range between $65,000 and $149,000 at an average of about $98,000. By contrast, a program manager salary in Australia ranges from between $115,000 to $135,000. 
How do I choose a qualification in project management?
According to international research by KPMG, 70 per cent of organisations have experienced at least one project failure in the past year. Good project management not only avoids failure but it saves money which improves the financial performance of businesses.
What that means for you is that choosing the right project management course is a critical decision.
So, before you commence your own career upskill project, get the answers to these questions.
Does the program give me real-world, project manager job-ready skills?
For a long time, project management was an industry of on-the-job training, with project managers progressing through junior roles like project scheduler. Administrative roles like these are now performed by project management software used by over 70 per cent of organisations.
With a history stretching back over 20 years, RMIT Online's Graduate Diploma in Project Management has witnessed and adapted to the industry's adoption of project management software.
This program brings work-integrated learning (WIL) into many assessments alongside problem-based learning and critical reflection on practice to arm you with job-ready skills.
You'll not only be learning project management methodologies from industry-respected academics but current industry leaders, enabling you to develop industry connections.
Does the program offer me options to tailor my degree to my career path goals?
Project management is a profession that can be applied to many industries, allowing you to direct your career where there's growth. However, it's still possible to specialise and craft your own preferred career path.
RMIT Online's Graduate Diploma in Project Management offers you two distinct pathways – generalist project management and specialist IT management.
In the generalist project management pathway, you'll develop a deep and broad skill-set that you can apply to a wide range of industries. The specialist IT management pathway will prepare you for the agile and fast-changing world of information technology and information security.
With soft skills like communication and leadership skills, both specialisations are built on the same project management practices that form the core of the Graduate Certificate in Project Management. However, this shorter program also gives you the option to choose your preferred specialisation.
Does the institution have a good reputation?
This year's Future Project Leader Elizabeth Cook is a graduate of RMIT, and she's not alone in the world of extraordinary project managers. Bronwen Holland is another RMIT graduate who has worked on the delivery and refurbishment of significant cultural infrastructure.
As alumni of RMIT, they are members of a network with qualifications from an institution recognised globally for excellence in technology, innovation, and design.
Out of 1002 universities around the world, RMIT sits at 223 in the QS World University Rankings. That translates to 15th in Australia.
When you look at universities under the age of 50, RMIT is 18th in the world and 5th in Australia.
Most importantly, like Cook and Holland, you'll benefit from a qualification that emphasises employability. RMIT is 77th in the world on QS Graduate Employability Rankings.
Is the program flexible to my lifestyle?
RMIT Online's Graduate Diploma in Project Management is accelerated, flexible and allows you to study anywhere at any time.
Accelerated means you can complete this program with part-time study in just 16 months, so you can continue to work while you learn. And you don't have to wait to get started. With six opportunities to start each year, you're never more than two months away from beginning your studies.
Flexibility is 100 per cent online learning – but that doesn't mean you'll be studying alone. RMIT Online has been designed to enable connections with other students to share ideas, organise study groups and find support when you need it.
You'll also have one-on-one support from our study advisor, who specialises in project managing your study to keep you motivated and help you reach your goals.
Learn more about how RMIT Online's Graduate Diploma in Project Management can further your project management career by visiting the website or calling 1300 701 171.