What's the career outlook for supply chain management in 2022?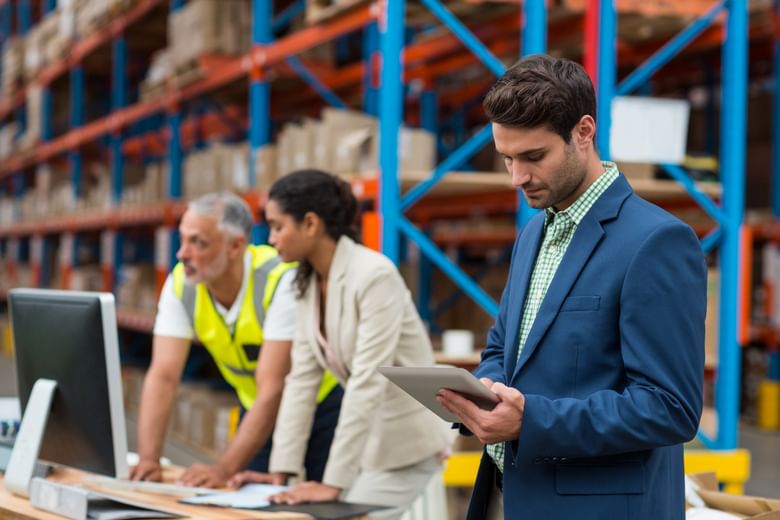 In 1945, the milk from Malanda in Far North Queensland took two days to reach Townsville by train. But Arthur Battle could see a better way, so he loaded up his truck and got the milk there by road in one day – faster and fresher.
Supply chain managers see opportunities in what others might call challenges.
Battle's family-run business Nortrans recently celebrated a fifty-year client relationship with BOC Gases, winning them a Chartered Institute of Logistics and Transport Australia (CILTA) award for Excellence and Innovation in Safety. Clearly, their eye for opportunities and continuous improvement hasn't faded over time.
Whatever industry you work in, wherever you live, you'll have contact with at least one point of the supply chain.
From your vantage point, you might see a job opportunity for yourself in supply chain management (SCM).
Let's take a closer look at how your prospects in one of the largest global industries could play out over the next few years.
Is the supply chain industry growing?
Yes. Recent research reveals that the global supply chain industry will be worth $37.4 billion by 2027. To get there from here will require 11 per cent of growth every single year.
And there's more to this career choice than trucks, ships, planes, trains and automobiles.
In fact, the supply chain of digital services doesn't necessarily require any of those traditional modes of transport, and it's just one part of an industry that is continually expanding.
But what about COVID-19? The coronavirus pandemic has impacted global, national, and local supply chains in unpredictable and costly ways. At its peak, 70 per cent of the world's shipping ports were affected by COVID-19, which meant ships couldn't dock and over a million crew members were stranded at sea.
However, in true supply chain management form, the industry has evolved rapidly with the support of government and industry to improve supply chain resiliency.
In many instances, supply chain workers like Lyan Naqeeb are essential to keep the economy moving through lockdowns and other restrictions.
"I just feel lucky that I have this kind of work because we're in an industry that just keeps going no matter what's happening in the world," Naqeeb tells the ABC.
What does job growth look like in the supply chain industry in 2022?
According to Seek.com, projected job growth in the supply chain industry for 2022 (and for the next five years) is 10 per cent. That's in line with research that suggests the industry itself will grow by 11 per cent each year until 2027.
Job Outlook agrees there will be strong future job growth to build on the convincing performance of the last five years.
Another sign of good things to come in terms of job prospects is the increase in technology and automation that improves and expands the industry beyond job titles like operations manager, logistics analyst, logistics manager and purchasing manager.
AgriChain is Australia's largest supply chain software company using blockchain to improve security and efficiency along the entire delivery process. Other disrupters like BeefLedger and VeChain are also using public ledger technology to improve supply chain management.
While software development does call for coding skills, businesses like these also need people with superior skills in supply chain management, providing even more career opportunities and job growth.
What skills make a good supply chain manager today?
A good supply chain manager needs a mix of technical skills and soft skills, including strategic thinking and commercial acumen.
And if you're still thinking that supply chain management is about getting goods from point A to point B, think again. An Australian gas company has recently built a closed-loop production facility, so materials effectively go from point A to point A.
Supagas produces food-grade carbon dioxide (CO2), which puts the bubbles in your prosecco, beer, and soft drinks. Until recently, they were sourcing that CO2 by burning natural gas – but knew that there must be a better way.
Supply chain manager Anthony Gstalter explains that Supagas established a partnership with a food producer called Manildra. As part of their supply chain, Manildra ferments raw materials like grain to produce ethanol, which also generates waste in CO2.
Management of recycling and closed-loop manufacturing are key skills for good supply chain managers that are essential for supply chain sustainability. These are just some of the skills you can develop with our Masters of Supply Chain & Logistics Management.
Here's a rundown of the other technical and soft skills required for a successful career path in supply chain management.
Supply chain management technical skills
It almost goes without saying that a deep understanding of supply chain principles is an essential technical skill.
The supply chain management performance and capability continuum helps determine where a company can create value and sustain competitive advantage. Three components make up this continuum:
Operational excellence
Supply chain integration and collaboration
Virtual supply chains 
You'll also need to know how to run enterprise resource planning (ERP). This software is a suite of integrated business administration programs that collect, store, manage and interpret data from various business activities. In addition to running it, you'll need to know the key concepts of business analytics and supply chain modelling and design.
Another essential skill for this occupation is warehousing, which uses a planned space to store goods or materials efficiently. Once upon a time, most businesses took care of their own warehousing and inventory management, but today shared warehouses and distribution centres are commonplace, along with just-in-time deliveries.
You can add all of these technical skills and more to your resume with our Masters of Supply Chain & Logistics Management.
Soft skills for a supply chain management career
There are two things you need to remember about soft skills. Firstly, you can learn them at any stage in life, and secondly, they're transferrable skills that enhance your abilities in all careers.
As a supply chain manager, you will thrive if you have exceptional soft skills in a few key areas. These include:
Commercial acumen: This skill is more than just an understanding of the business world. It's about your business's market and the environment in which it operates.
Strategic thinking: This is a soft skill used in strategic management and employs several different models or frameworks to develop strategic foresight.
Negotiation: This is a mindset that is less about winning the deal and more about ensuring that both sides reach a beneficial outcome. Like strategic thinking, there are different approaches to the negotiation process – but the goal is always to achieve a mutual benefit.
Our Masters of Supply Chain & Logistics Management will develop your soft skills through a degree program that focuses on strategic operations, strategic procurement management, and managing supply contracts.
What can I earn as a supply chain manager in Australia?
According to Seek.com, supply chain managers can expect an average annual salary of $130,000 – a bit lower when you're starting in employment, moving up to the highest level for managerial and senior-level roles.
Payscale's survey of recent salary profiles on their platform puts the spread of base salaries in this labour market between $68,000 and $152,000. This survey also reveals potential bonuses for supply chain managers of between $4,000 and $25,000.
Should I study for a degree in supply chain management?
For many students, the answer is a resounding yes.

Our Master of Supply Chain & Logistics Management will build on your bachelor's degree to enhance your technical and soft skills in supply chain management. RMIT has been specialising in supply chain and logistics longer than any other educational institution and is recognised globally for its education and training in this vital field.
Our program is certified by The Chartered Institute of Logistics and Transport Australia (CILTA), which means that when you graduate with the best Masters of Supply Chain & Logistics Management in Australia – you'll also have the key to membership with the industry's peak body.
But most importantly, as a 100% online masters, you can learn at a time and at a place that suits you. And with six different start dates throughout the year, you can get started in less than two months and start applying your newfound skills immediately.
Learn more about our Masters of Supply Chain & Logistics Management. You can book a 15-minute chat with one of our expert Student Success Advisors via our website or call 1300 701 171.