Innovative employee benefits, reward and recognition systems: when compensation isn't enough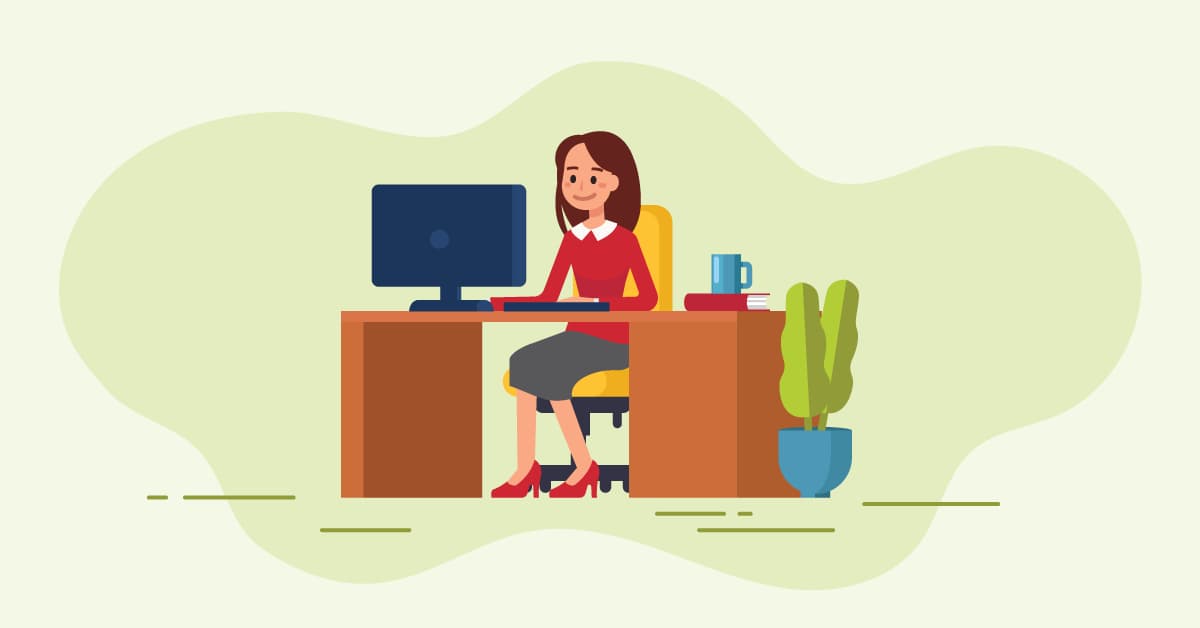 From flexible working arrangements, free lunch, gym membership, on-site childcare, and even rock-climbing walls, the employee benefits offered by employers in Australia these days go well beyond the bowl of fruit in the breakroom.
In the modern workplace, businesses use employee benefits, often alongside employee rewards and recognition programs, to retain staff, attract new talent, and foster a culture of inclusion and diversity.
Employee benefits v employee entitlements 
Today's employers are offering wide-ranging and increasingly progressive types of employee rewards and benefits, and many organisations are rewriting policies to ensure staff are well looked after, both in the workplace and at home. In Australia, these employee benefits are always in addition to the standard employee entitlements required by Australian law.
Employee entitlements in Australia
In Australia, employers are obliged by law to ensure their employees receive the 10 entitlements outlined by the National Employment Standards (NES) under the Fair Work Act 2009, including annual leave, parental leave, long-service leave and the right to request flexible working arrangements. In addition to the NES entitlements, which cover all full- and part-time employees and provide partial coverage for casual employees, every person employed in Australia is entitled to the national minimum wage.
According to the Fair Work Ombudsman, employment contracts, enterprise agreements and awards agreed on by the employer and employee must provide conditions that are equal to (or more than) the NES and the national minimum wage. These minimum standards ensure a basic level of employee rights, and failure to comply with them can lead to serious consequences.
Salary and awards
Obvious as it may be, employers must pay employees for the work that they do – whether they are a full- or part-time employee or contracted on a casual basis. Along with the national minimum wage that an employee receives, the NES also restrict the number of hours that an individual can work each week. For a full-time employee, for example, the maximum is 38 hours, although some contracts include stipulations allowing employers to request "reasonable overtime" beyond 38 hours.
The employee and employer must agree to a salary that complies with the Fair Work Act 2009, which is enforced by the Fair Work Commission. This body is also responsible for setting awards, which are legal agreements that establish the minimum terms and conditions of employment. Awards differ by industry and occupation.
Superannuation
Superannuation is the money diverted from an employee's salary or wages into a retirement fund that can be accessed after the individual has reached a certain age. The Australian Government's MoneySmart website says that an employer must contribute an amount equal to 9.5 per cent of an employee's salary to a super fund of the employee's choice – this amount is in addition to salary or wages. The minimum contribution employers must pay is scheduled to increase to 12 per cent by 2025.
Additional super contributions
It is not uncommon for big companies to offer greater contributions as an additional employee benefit and hiring incentive. Individuals can also make voluntary contributions, such as through salary sacrificing arranged by their employers.
Paid super during maternity leave
According to the 2017 study Not So Super, For Women, conducted by the Australian Services Union, women retire with around half of the superannuation (53 per cent) that men do, and the most significant factor affecting this gender gap is motherhood. Under current Australian Government legislation, employers are not required to continue paying an employee's superannuation while she is on maternity leave, and according to Women's Agenda, it is rare for employers to continue making these contributions voluntarily.
In recent years, however, big companies have started to change that trend. Participating organisations include the big four banks (Commonwealth Bank, ANZ, NAB and Westpac), energy company Viva Energy, property group Dexus and superannuation fund AustralianSuper, Women's Agenda reports.
Annual and sick leave
Whether employed full or part-time, employees inevitably want to take leave at some point, whether for a holiday or for personal illness or injury – and employees in Australia are entitled to do so. 
Paid annual leave
The amount of paid annual leave that employees in Australia receive often depends on agreements they make with their employers. However, workers must get at least four weeks of leave, which is calculated based on the number of hours they normally work in a week, according to the Fair Work Ombudsman website. A full-time employee who works 38 hours per week, for example, receives 152 hours of paid leave per year, while a part-time employee working 15 hours per week receives 60 hours annually (the equivalent of four weeks on their typical work schedule). 
Other types of entitlements, sick leave and carer's leave, allow employees to take paid time off due to personal illness or injury or for carer responsibilities and family emergencies. The amount of leave that an employee is entitled to depends on how long they have worked for their employer and how many hours they work per week. A full-time employee, for example, is entitled to 10 days of sick leave each year. Employers are entitled to ask for proof of illness or injury, such as a medical certificate.
In regard to annual leave and sick leave, casual employees are not eligible for the same employee benefits as full- and part-time staff. 
Family and domestic violence leave
Amendments made to the Fair Work Act in 2018 added a new NES entitlement providing unpaid family and domestic violence leave of up to five days each year. Family and domestic violence leave is available to full- and part-time employees as well as casual staff. 
Parental leave
Employees are entitled to parental leave when a child is born or adopted. Parental leave includes maternity leave, paternity and partner leave, and adoption leave.  Through the Australian Government's Parental Leave Pay scheme, eligible employees who are the primary caregivers of an infant or adopted child receive 18 weeks of paid leave at the national minimum wage. In addition to this, employees are entitled to take 12 months of unpaid paternity leave and retain the right to return to their jobs. Employers can offer their own paid parental leave benefits in addition to that provided by the Australian Government. Companies with progressive parental leave policies sometimes also offer paid parental leave to the parents of a stillborn infant. 
Long service leave
When an employee has worked for the same employer for a long period of time, they are entitled to long service leave (LSL) – an extended amount of paid leave, which is generally provided in addition to their paid annual leave entitlements. State laws regulate both how long an employee must be employed before they are entitled to LSL and how much time they are entitled to receive. In Victoria, for example, the Long Service Leave Act (2018) allows employees to apply for LSL after seven years of service.
What benefits do employees want?
Besides the minimum employee benefits in Australia ensured by the National Employment Standards and national minimum wage, many employers offer additional employee benefits – both to encourage employee loyalty and to attract new talent.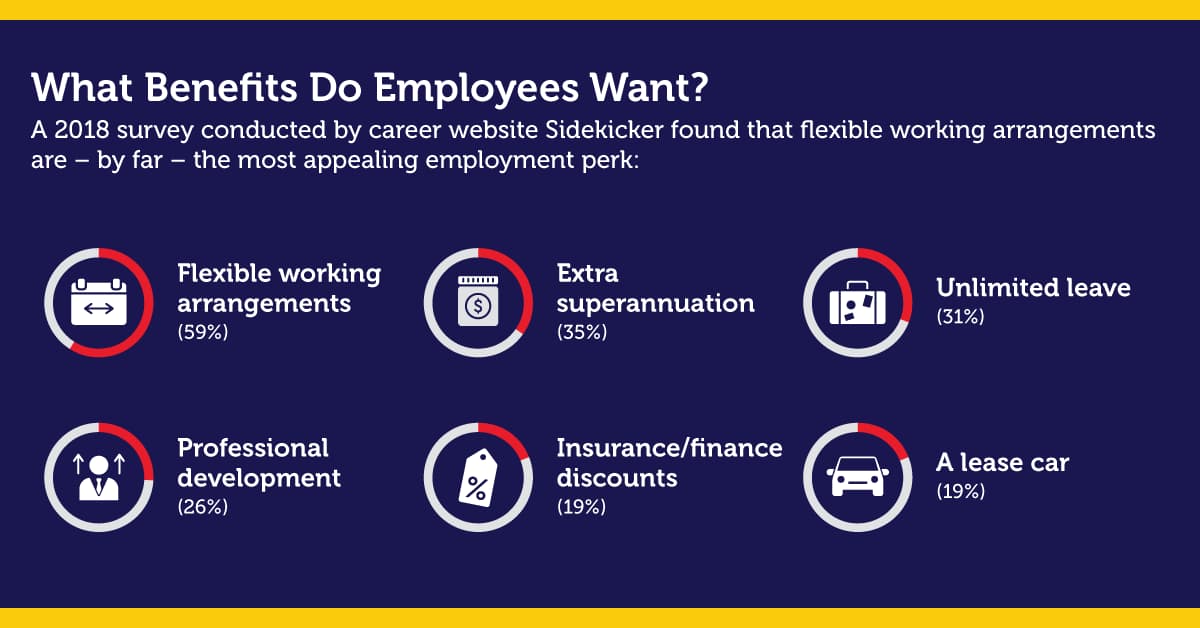 Types of employee benefits
The types of employee benefits in Australian and international workplaces are diverse, ranging from workplace setups that are more urban playground than traditional office to progressive employee policies that are designed to enhance inclusivity and diversity.
Flexible working arrangements
Flexible working arrangements are fast becoming the new normal and are, as revealed by the Seek survey, one of the greatest employee benefits an employer can offer. Flexible working arrangements might include working remotely (e.g. from home), an adjustment to working hours (e.g. starting later to fit in the school drop-off), and job sharing and splitting shifts.
According to the Fair Work Ombudsman, some employees – including parents, caregivers, people with disabilities and people experiencing domestic or family violence – are entitled by law to request flexible working arrangements. These requests can be denied only on reasonable business grounds. 
The value of flexible working arrangements
When it comes to retaining staff and attracting new talent, the employee benefits offered by an employer are likely to become even more important. By 2025, around 75 per cent of the global workforce will comprise millennials, who, along with Generation Y, place great importance on having the option of flexible working arrangements. 
According to the 2018 Deloitte Millennial Survey, "Highly flexible working arrangements enhance the degree of employee loyalty. Not only do millennials appreciate not being tied to strict hours or locations, [but] they also value the trust their employers demonstrate in granting that flexibility."
But most employees needn't worry that employers aren't on their side on this issue. A survey conducted by recruitment firm Hays Australia and New Zealand in 2018 revealed that 89 per cent of employers believe flexible arrangements are important or very important when it comes to staff loyalty and attraction.
A comfortable workplace environment
The ways in which a workplace environment and experience can be improved for the well-being of employees are innumerable: coffee machines and wellness programs (e.g. lunchtime yoga, meditation rooms and gym memberships) are just the beginning.
In addition to facilitating a positive workplace experience, employers are starting to show that they care about their employees' well-being outside the office as well – often in unique ways. An employee who has just gotten a new pet might receive "Pawternity leave", for example, or staff might receive so-called "doona days" – a no-questions-asked extra day off each year – in addition to standard leave entitlements. HSBC recently trialled the latter benefit as part of its wellness program, and perhaps unsurprisingly, the majority of the company's staff took advantage of the opportunity, according to Business Insider Australia.
Extra leave entitlements
It may be hard to believe, but some employers offer their employees unlimited leave. The Sydney Morning Herald reports that beyond the perks of an extra day off for one's birthday or mental health days, some companies now leave it up to their staff to decide how many days they take off each year. 
Student Flights, eHarmony and Inventium, an Australian innovation consultancy, all have unlimited leave policies. After 12 months with the policy in place, Inventium found that staff took an average of 24 days, and after 24 months, 27 days.
Progressive employee benefits
Employee benefits in Australia are increasingly progressive, particularly when it comes to big companies. In 2018, Westpac, one of Australia's big four banks, introduced new policies that, in particular, benefit transgender and indigenous Australians.
Gender transition leave
According to HRM, Westpac staff undergoing a sex or gender change are entitled to four weeks of paid transitional leave and up to a year of unpaid leave. In addition to this, Westpac has also made counselling and support services available. Deakin University in Australia also offers its staff 10 days of paid gender transition leave.
Sorry business leave
"Sorry business" is the term used by Indigenous and Torres Strait Islander people to refer to the time of mourning after a death has occurred in the community, according to the Wujal Wujal Aboriginal Shire Council. 
HRM reports that Westpac has introduced a policy that allows Indigenous or Torres Strait Islander employees three days of leave following the death of a family member or other personal tragedy. This is to allow for community ceremonies and other important cultural practices during times of bereavement.
Australia's most attractive employers
It's no surprise that the No. 1 employer on Randstad's 2019 list of the top 20 most attractive employers was Qantas – whose extensive employee benefits include travel benefits that would make any employee envious. RMIT University came in at No. 10 on the competitive list. 
Randstad also revealed that for 54 per cent of its survey respondents, work-life balance is the single most important reason for employees to stay in their roles – ahead of salary and benefits (52 per cent), job security (47 per cent), and a pleasant work atmosphere (40 per cent).
According to Randstad Australia CEO Frank Ribuot, "Workers are continuing to battle with work-life balance issues, particularly Gen Z. It's their top reason for leaving a job. We need to listen and do more to retain good employees by delivering the trifecta of work-life balance, long-term job security and a competitive salary."
Australia's Top 10 Most Attractive Employers
Qantas Airways
Epworth Healthcare
Apple
PwC
TAS Government
Infosys Technologies Limited
The University of Melbourne 
Virgin Australia
ABC
RMIT
In both 2017 and 2018, Great Place to Work ranked Canva, an online publishing and design firm, the best place to work in Australia among companies with between 100 and 999 employees. The company offers its more than 350 employees, who work in offices in Sydney, Manila and Beijing, a lengthy and creative list of employee benefits.
According to Business Insider Australia, the company's Sydney office emphasises the working experience just as much as it does the actual work. Some of the many workplace perks include: 
Daily breakfast and lunch cooked by the in-house kitchen 
Free membership to local fitness studios
Mentoring and continuous learning opportunities
Arcade games and a rock-climbing wall
Free sanitary products and parenting rooms
16 weeks of paid parental leave for primary carers and four for non-primary carers 
Types of employee rewards and recognition programs
Employee rewards and recognition programs are yet another way that employers can demonstrate to their employees that they value their contributions to the success and culture of the business. Recognising achievements (e.g. when a team or individual finishes an important project) and milestones (e.g. when an employee celebrates a work anniversary) improves workplace culture and employee satisfaction, whether that be through financial rewards or more personalised on-the-spot feedback or peer-to-peer reviews.
According to HRD, employee rewards and recognition programs are increasingly digital, utilising social platforms, employee portals and digital gifts. "Separate from standard salary and benefits, staff recognition schemes help to motivate and engage staff by acknowledging their good work in a variety of ways. Initiatives such as employee-nominated training and development, digital gift cards, and experiential and lifestyle-based rewards can all be claimed and monitored through a [digital] portal."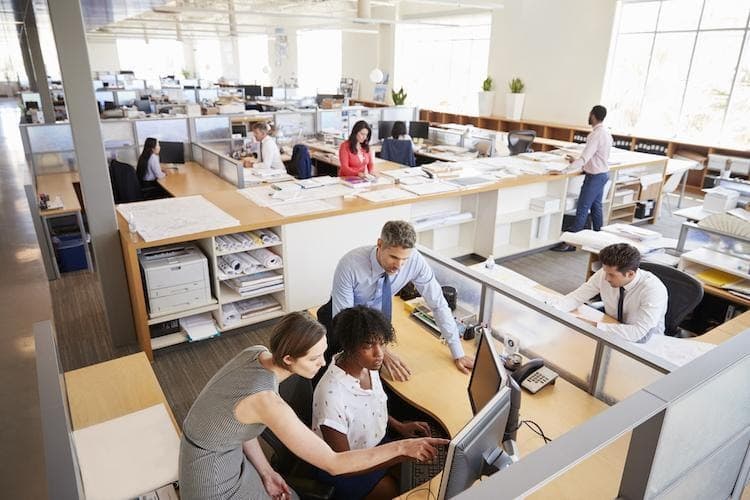 What does a successful employee rewards program look like?
In 2017, the Australian HR Awards awarded Employsure, workplace relations specialists, for the best employee rewards and recognition (R&R) program. According to HRD, some of Employsure's key employee rewards and recognition initiatives include: 
An Instagram page, created to provide insight into what it's like to work at Employsure
An internal "Workplace" page, which is used to enhance staff engagement, communication and recognition
An "Ambassadors Club" for employees who have been with the company for two years – assuming employees have met performance expectations, this club makes them eligible for additional employee benefits (e.g. extra leave, personal development, and extended parental leave)
A staff "check-in" at the end of each quarter to recognise achievements and challenges 
Strengthening company culture through benefits and rewards
The types of employee benefits and rewards and recognition programs that an employer puts in place – in addition to employee entitlements – are somewhat dependant on a company's capacity, as well as the nature of the business itself. After all, not all employers can offer the types of travel benefits that Qantas and global accommodation giant Airbnb do. But whether it's leave benefits, health and well-being programs, superannuation, non-financial rewards, long-term incentives, or flexible working arrangements, employees expect benefits and rewards beyond their base pay – and employers who are unable to meet these expectations may increasingly face retention and hiring challenges in the future.
Pursue a career in HR management
If you're interested in designing and implementing innovative employee benefits, rewards and recognition programs, earning an advanced degree could help you achieve your career goals. RMIT's online Master of Human Resource Management program teaches skills that can prepare you to build strong employee teams, develop managerial expertise, and become more competitive for HR jobs and promotions. Learn more about RMIT's online Master of HRM program today and take the next step towards a fulfilling career as a leader in human resources.