AI CEO: Exploring how AI answers business questions compared to prominent CEOs

We're becoming increasingly acquainted (albeit with some resistance) with the concept of machines taking over our jobs.
There are certainly some easier tasks that are understandably automated, despite the moral implications. But what about the more prestigious jobs –like those of chief executive officers (CEOs)? Can CEOs be replaced by artificial intelligence as well? We recently launched an experiment that may make you consider the answer to this question to be "yes."
Using GPT-3 technology, a one-shot learning language model, we were able to extrapolate AI-generated responses to some of the very same questions CEOs have recently faced. We then compared their answers to the responses of actual human CEOs of enormous companies like Amazon and Google.
All answers – human and AI – were then showcased to people around the country who had the chance to pick and choose their favourite responses. Curious to see who has a better response to racial injustice, AI or Mark Zuckerberg? What about employee mental health concerns or COVID-19 responses?
But is it possible that AI really can do it better?
Responses to racial injustice
Our study did kick off with a particularly sensitive and emotional topic: racial injustice. We compared reactions to racial inequality from CEOs from GM, Etsy, Microsoft, Facebook, and of course, one generated from AI technology. Their words, as well as audience responses to those words, are shared below.
Racial inequality is evidently too sensitive of a topic for a nonhuman to handle, no matter how sophisticated the technology. Overall, AI-generated responses to the topic were the least favoured, according to human audiences.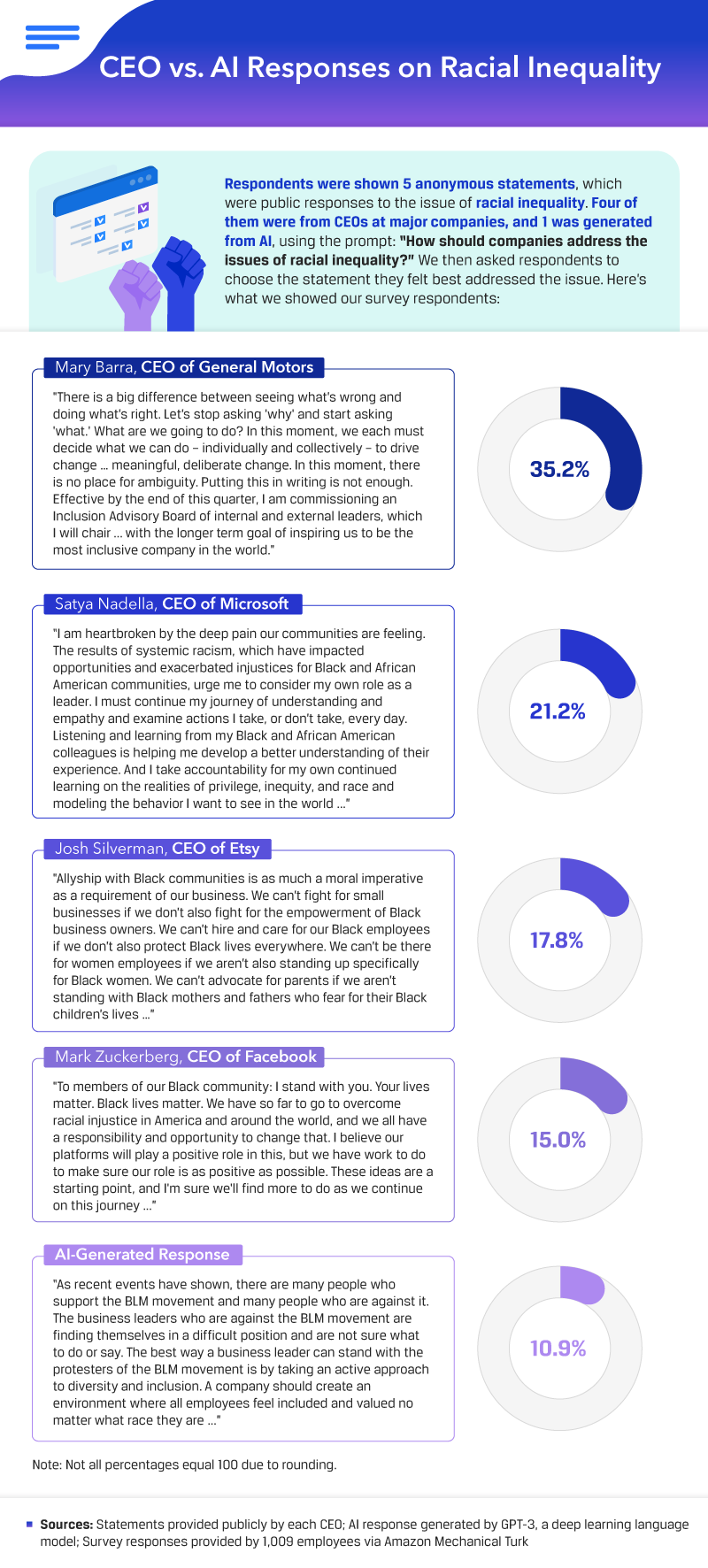 It's also worth noting that the overall favourite response was from the only female CEO in the mix. Mary Barra, CEO of General Motors, shared a particularly well-received response to the conversation around racism today. She stated, "Let's stop asking 'why' and start asking 'what.' What are we going to do?" This call to action was much appreciated compared to AI's, which only 10.9 per cent of people chose as having the best response.
Facebook's response, however, was only marginally better. CEO Mark Zuckerberg shared, "To members of our Black Community, I stand with you." This may have rung somewhat hollow, as even before 2020, Facebook was often being accused of hiding conversations around racism. Considering AI is generating its responses based on human data, we can only blame AI's racism-related response so much. It may be learning from unqualified teachers.
But would it have better examples when it came to mental health?
Matters of mental health
Mental health has become a particularly important conversation recently as well. The next part of our study compares mental health-related responses from AI and the human CEOs of Verizon, Chevron, EY, and Financial Times.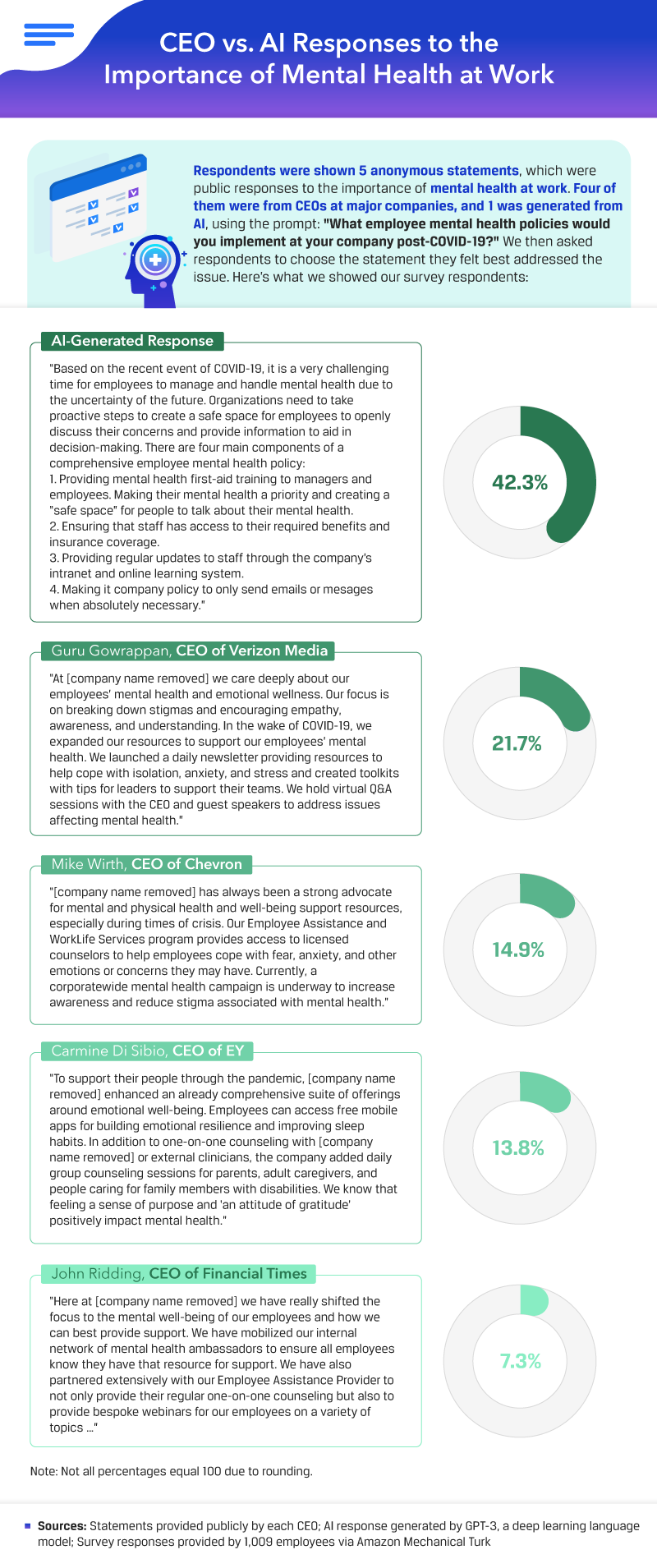 More than 42 per cent felt that the AI-generated response to the question "What are you doing as a business leader to help those impacted by COVID-19" was best. AI's answer, which 42.3 per cent of people chose as their favourite, included:
A step-by-step plan
Financial coverage
An intention to continue efforts into the future
No other companies were able to say these same things. Verizon, which 21.7 per cent still chose as their favourite response, opened by explaining cultural shifts at the company that would reduce mental health stigma. Chevron also made the crucial mistake of talking about what they have "always done" in the past, which didn't leave many people having much faith in their future. Only 14.9 per cent of people chose this company's response as their favourite.
COVID-19 conversations
It's unclear if anybody really knew how to respond properly to COVID-19. Companies filled the world's inboxes with an influx of (often tone-deaf) pandemic-related responses, while continually changing circumstances made it almost impossible to strategize.
That said, AI somehow knew how to handle it.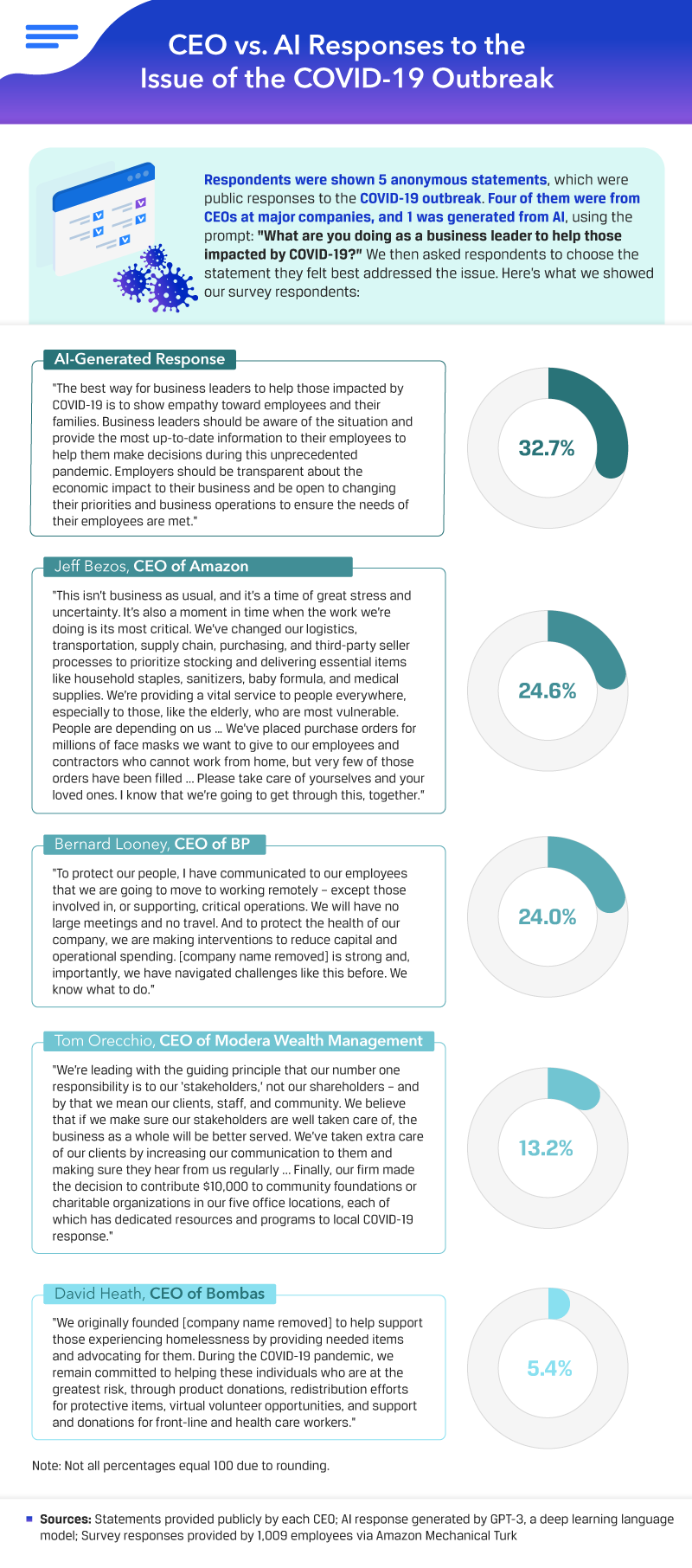 Even an ethics-driven, B-corp status company like Bombas couldn't compete with AI when it came to addressing COVID-19's impact on employees.
Nearly one-third of respondents agreed that AI had a better response to the pandemic, which was in sharp contrast to their reactions to Amazon's CEO.
AI stated, "The best way for business leaders to help those impacted by COVID-19 is to show empathy toward employees ..." This statement alone indicated adherence to something other than the bottom line, which may have been the crucial human error demonstrated by other companies. AI knew better than human beings to put morality first and profit second.
Worldwide priorities
So what exactly was it that employees were looking for their CEOs to prioritise? The last part of our study compares the U.S., the EU, and Australia regarding this exact question.
When it came to COVID-19, mental health, and racial injustice, Australia expected the least out of their companies. The U.S. and the EU were comparatively more demanding for their employers to support issues like this. That said, the overwhelming majority of employees in all three geographic locations did deem employer support for these matters as very important.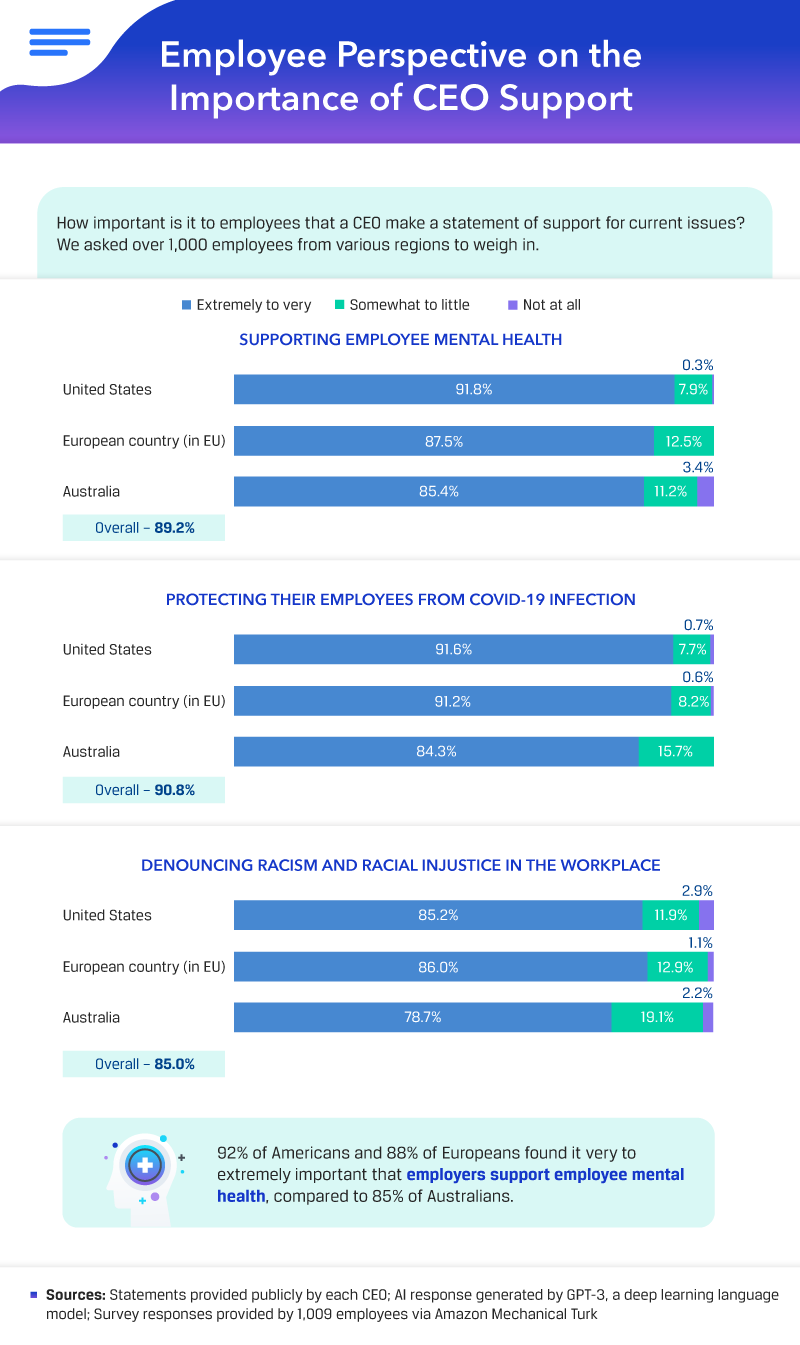 Supporting employee mental health was particularly important for workers in the U.S. Mental health in America has been particularly problematic. The National Institute of Mental Health estimates that 1 in 5 Americans struggle with a mental health issue of some kind. It may make sense then that respondents from this country were more adamant that their employers care.
Whether employers should consider racial injustice important was more divisive even within each country. This question had many people from the U.S., the EU, and Australia thinking it was "not at all" important for employers to concern themselves here.
Employer expectations
With COVID-19 and issues of racial injustice rattling the world and mental health, we would imagine that these conversations will only continue to grow and hopefully produce some real results.
Employees may even look to AI for some answers. After all, many machine-generated responses resonated much more strongly with employees than did those from actual human CEOs.
If these types of ethical transformations are important to you, you may want to develop the skill set you'll need to make a difference.
RMIT Online's Graduate Certificate in Workforce Transformation will help you anticipate, plan and navigate the changing world of the workplace through workforce data, analytics and leadership skills.
Learn more about how you can stand out as a change professional for the future with RMIT Online's Graduate Certificate in Workforce Transformation.
Methodology and limitations
To explore how AI-generated responses stack up against CEO responses to current events, we used OpenAI's GPT-3, a deep-learning language model, and public CEO statements across three main issues.
First, we compiled public statements from CEOs across famous or notable companies. We focused on the current issues of racial injustice, mental health, and the impacts of COVID-19 (because of their deep impacts on the workplace and consequently its people) to further explore how companies and their leadership have a role in these issues.
Then, to explore how AI-generated responses compared, we asked AI three prompts:
"What are you doing as a business leader to help those impacted by COVID-19?"
"How should companies address the issues of racial inequality?"
"What employee mental health policies would you implement at your company post-COVID-19?"
Then, we surveyed 1,009 employed people on which statements they preferred without showing them the name of the CEO or indicating which statements were generated by AI. Respondents ranged in age from 18 to 77, with an average age of 35 and a standard deviation of eight years.
Around 9 per cent of our respondents were from Australia, 46 per cent from Europe, and 45 per cent from the United States. Data that rely on self-report may carry inherent issues, such as telescoping, exaggeration, and recency bias.
We did not weight our survey data, nor did we statistically test our hypotheses. Instead, this was an exploratory experiment that measured AIs responses to complex business questions to prominent CEOs.
Fair Use Statement
Education and sharing information is crucial in improving some of these injustices and mental health issues. If you'd like to share this research, just be sure your purposes are noncommercial and that you link back to this page to attribute proper credit.