What are the prerequisites to study an online MBA?
For over a century, the Master of Business Administration (MBA) has been the notable pathway into the world of business and management. Global big-name players such as 2012 US Presidential Candidate Mitt Romney and NBA legend Shaquille O'Neal are amongst a pool of successful entrepreneurs with an MBA to their name. It's no surprise then that an MBA continues to be the most popular professional degree in the world today.  
The chief executive of the Association of MBA's (AMBA) once described the MBA as having "never stood still." He added,
"The constantly evolving requirements of employers, the changing demands of students, and the revolutionary changes caused by waves of new technologies have been met by a willingness by the best business schools to change the what, the how, and (increasingly) the where they teach."
The latest research shows the MBA's enduring capacity to evolve and grow, including the increasing trend towards flexible learning methods.
The MBA has traditionally focussed on subjects in economics, finance, strategy and operations. However, with the business landscape evolving and professionals expected to work within an increasingly challenging economic environment, there's been a need for a new kind of MBA – online.      
What RMIT Online offers
The RMIT Online MBA is designed with future leaders in mind. It focuses on design thinking skills and technological knowledge to set graduates up to manage continually changing, complex and diverse business needs.
The program aligns with the core values of the university which champions enterprise, innovation and internationalisation.
A globally recognised MBA, the program entails eight core courses, including:
Design Thinking for Business
Leadership & Management
Marketing for Managers
Financial Analytics for Managerial Decisions
Management of Technology and Innovation
Strategy
Business Data Analytics; and
Business Consulting. 
As the world of work continues to transform, graduates from RMIT's online MBA will walk away with the capability to navigate emerging technologies, transform business strategies and turn challenges into opportunities.   
Interested in RMIT's online MBA? Here's your guide to how you can meet the online MBA entry requirements and upskill for the future. 
Prerequisites to studying RMIT Online's MBA
Do I need to have completed a business degree?
No. It's not compulsory to have completed a business degree prior to your application. You can put in a submission if your bachelor degree was in a related field such as economics or any other discipline such as marketing.
If your background is not in business or a related field, you also need to demonstrate that you have a background in management in the workplace – this includes supervisory responsibilities and a minimum of three years full-time experience in such a role. 
Of course, you can also apply if your bachelor degree was in business. However, there is a minimum grade point average (GPA) you will have to have reached to be considered for the program.
What GPA do I need?
The GPA is the calculation used worldwide to determine the average result of all grades achieved throughout your course. For instance, you may have completed your course with a distinction. To be considered for RMIT's online MBA, you will require a GPA of 1.0 out of 4.0. This grading system applies whether you have completed a bachelor degree (or equivalent), or a higher-level qualification in business or a related field. The same applies if you hold a bachelor degree (or equivalent) in any other discipline.
There are a few more considerations before you hit the apply button. If, for instance, you have completed a bachelor degree (or equivalent), or a higher-level qualification in business or a related field, there's an alternative scoring system which will help you meet the entry requirements. If you have scored a minimum of 550 points in the graduate management admission test (GMAT), you will be considered for entry into the program. This is a computer-based standardised test – it's designed to assess your analytical, writing, quantitative, verbal and reading skills in written English.  
What if I don't meet the above requirements?
Good news. None of the above MBA entry requirements will matter if you have already completed and successfully passed RMIT's Online Graduate Certificate in Business Administration – this is your passport straight through to an MBA. 
Why work experience is valued for MBA entry
Given the experiential and interactive nature of RMIT's online MBA, prior work experience is prized. It's important for applicants to have had a previous professional life to be able to contribute to high-level discussions on issues such as making the right hires, creating workplace hierarchies and innovative problem-solving. Whether you have worked in the media, the manufacturing industry or in education – through your work experience, you will bring a unique perspective to leadership challenges.
Your employment history must reflect a level of leadership experience because RMIT's online MBA builds upon these foundational skills. The number of people you managed, the size of the budget you oversaw, or the multiple projects you lead are all indicators of your competency and contribution to the workplace. Being able to demonstrate that you have progressed in your responsibilities throughout your career will mean that you will be suitable for the competitive MBA environment. 
RMIT Online's MBA relies less on textbooks and instead focuses on real-world business challenges through case studies. It requires applicants to think differently and to meet workplace changes head-on. This requires a level of confidence and capability that only comes with work experience.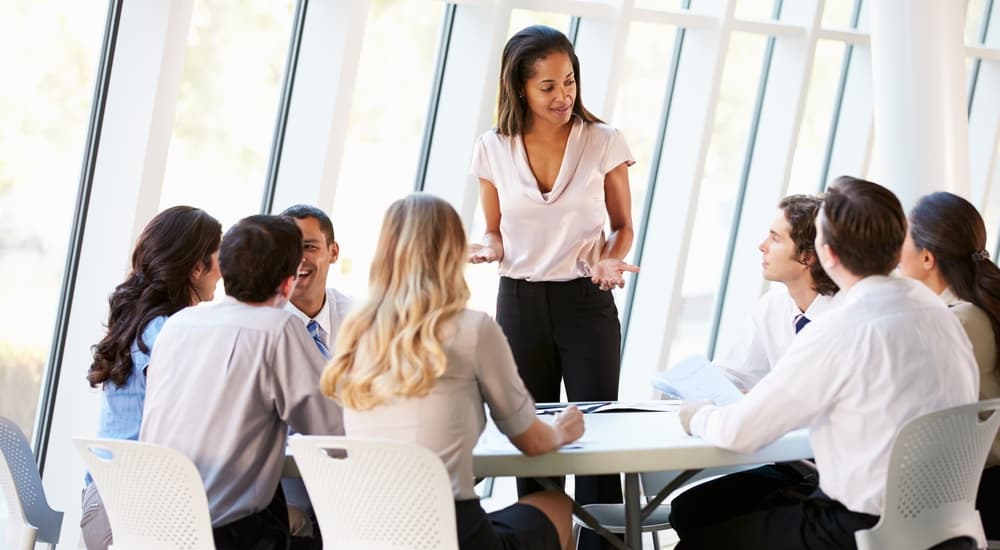 Ready to apply for the RMIT Online MBA?
RMIT's online MBA is fast-paced, dynamic, and unlike traditional MBA's it allows you to tailor your degree to an area you are passionate about.    
Learn more about our online MBA. Get in touch with our Enrolment team on 1300 701 171.