How to study a Masters of Business Administration without a bachelors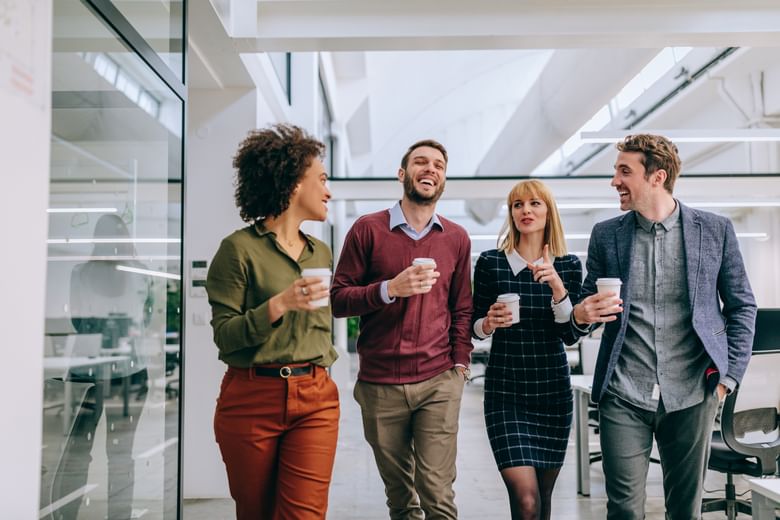 The journey we take through education and work experience is not without its twists, turns and obstacles.
The traditional path to a Master of Business Administration (MBA) is to begin with a business degree, set out into the business world, then return with some life experience and the desire to extend your qualifications.
But what if you didn't complete an undergraduate business degree – or you have no bachelors degree at all? The good news is that you don't need the magical powers of Shakespeare's Puck to open the door to your online MBA.
"A growing number of students are leveraging their managerial experience or other qualifications to commence our online MBA via the Graduate Certificate pathway," says Dr Kevin Argus from the Graduate School of Business & Law at RMIT.
In fact, many of RMIT Online's alumni have taken a less than conventional pathway through their masters programs.
"This adds diversity of leadership to the mix of prior learning and industry representation among students. In addition, our new RMIT Online MBA introduces activity-based learning and is highly engaging, regardless of prior learning experiences," says Dr Argus.
Your pathway to postgraduate study doesn't have to be linear or even conventional. So wherever you're starting from, here are four alternative ways you can study for a masters degree without bachelors.
1) Start with our Graduate Certificate of Business Administration and work your way up
In many ways, the Graduate Certificate of Business Administration is the perfect entrance to your MBA.
It's a nested qualification, which means that your coursework is actually four of the courses that make up the MBA. It also means that your initial time commitment is a third of the size of the MBA.
So, if you're concerned about managing your existing work and life commitments, this postgraduate program gives you a chance to get the balance right.
Alternatively, if you don't think your career is at the point of getting the maximum benefit from the masters level, the Graduate Certificate of Business Administration signals your intentions to your employers and could get you on the right track sooner.
Either way, you'll expand your abilities in:
design thinking,
leadership,
marketing,
financial analytics; and
management.
Successful completion of the Graduate Certificate will also open the door to your MBA, with full credit for the four courses you have already completed. In addition, both the Graduate Certificate and the MBA can be completed part-time while you continue to work.
Direct entry into the Graduate Certificate of Business Administration begins with an Australian bachelor degree. Work experience isn't a prerequisite, but you'll need either a grade point average (GPA) of 1.0 or a GMAT score of 550.
However, there is another way. If you have no academic qualifications, you may be eligible for alternate entry to the Graduate Certificate through your industry experience.
2) Use your industry experience
You may meet the alternate entry requirements for RMIT Online's Graduate Certificate in Business Administration. However, instead of a bachelor degree, you'll need five years of robust, relevant work experience (or five years full-time equivalent). 
On successful completion of your Graduate Certificate, you'll be able to continue straight into the online masters, with full credit for those first four courses already completed.
Marion Fulker has held several C-suite and board positions over the past two decades and is currently a board member with Infrastructure Australia. She left school before completing year 12 and, over the next 20 years, she was employed across the banking industry and worked her way up the corporate ladder.
At 39, Fulker landed her first role as CEO. But, over the next couple of years, she was overlooked for other executive positions because she didn't have a degree.
Thanks to her extensive professional experience, Fulker was able to gain alternate entry into her masters program. Since completing her MBA, Fulker has become a life-long learner and continues postgraduate degree studies worldwide.
3) Use your existing business degree
There's no way that taking the traditional path to an MBA can diminish the achievement of a well-laid plan.
In this scenario, you would have completed a Bachelor of Business from a wide range of specialisations. Upon graduation, you might have moved into the workforce where you've got some runs on the board, and now, you're ready to take your career to the next level.
It's time to commence your Master of Business Administration.
With a Bachelor of Business qualification, you still have two options when it comes to entering RMIT Online's MBA program:
Option 1: If you have a GPA of 1.0 out of 4.0 in your undergraduate qualification, you can apply directly.
RMIT's GPA is calculated by allocating 1 point to a pass, 2 to a credit, 3 to a distinction and 4 to a high distinction. Tally up your score, then divide by the number of courses in your undergraduate qualification to arrive at your GPA.
Option 2: If your GPA doesn't exceed 1.0, you can still qualify to study for your MBA through the Graduate Management Admission Test (GMAT), an internationally standardised test that can be completed online.
Before you leap into the GMAT, there's a variety of online programs around to help you prepare. You'll need to achieve an overall minimum score of 550 to qualify for the MBA program.
4) What if I have a non-business-related degree?
If you have a non-business-related degree, you'll be pleased to hear that you won't need to sit a maths test to qualify for RMIT Online's MBA program.
You will need a GPA of 1.0 and three years of experience (or three years full-time equivalent) in a management role with supervisory responsibilities.
Tahlia Azaria is the General Manager at Circus Oz, a uniquely Australian circus that combines theatre, satire and rock'n'roll. With a Bachelor of Communication from RMIT, she established a career in arts and communication across theatre, radio and television.
Azaria felt she was ready for management and that an MBA was what she needed to take the next step in her career. However, when she failed a year-9 equivalent maths test on her way back to higher education, Azaria felt she had fallen at the first hurdle. 
Despite some misgivings, Azaria persevered and graduated with an MBA in 2017. Shortly after, she joined Circus Oz as Director of Social Enterprise and was promoted to General Manager in 2019.
Azaria doesn't sugarcoat the experience and declares that it was hard. Neither does she pull punches on the benefits, claiming that it was so worth it.
"I now have the evidence and language to articulate my gut feelings around marketing, strategy, negotiations and even finance, where I feel surprisingly comfortable," says Azaria.
Why should I choose RMIT Online's MBA?
The MBA has traditionally been the standard qualification for management success because of its focus on leadership, management, marketing and finance. At RMIT Online, you'll pick up those skills in the first four courses – the same courses that make up the Graduate Certificate of Business Administration. 
From there, you can press pause to catch your breath or plunge into the advanced business skills of technology, innovation, strategy, consulting and data analytics.
In addition to the essential management skills for today's business environment, RMIT Online's MBA offers four minors that allow you to customise the qualification to your career goals.
Design Thinking
The design thinking minor takes you into the methodology that turned Airbnb into a billion-dollar business and delivered IBM a 300 per cent return on investment. Design thinking is less about how objects are designed and more about applying design principles to every business unit in an organisation.
Technology and Innovation
With a minor in technology and innovation, you'll develop a deep understanding of emerging trends in information and communications technology (ICT), which you can apply in business. You'll also build competency in digital risk management and information security – a threat that is expected to cost the national economy $29 billion per year.
Leadership
Your MBA minor could focus on leadership of people and organisations – an area that Marion Fulker found most beneficial, despite years of experience as a CEO. You'll explore modern approaches to the type of authentic leadership that has made NZ Prime Minister Jacinda Adern so popular.
Project Management
The project management minor will empower you to manage project teams. You won't just distinguish between agile and waterfall; you'll understand which is the right project management technique for your circumstances and how to get the best out of your team.
Whichever minor you choose, the bottom line is you can study for an MBA whether you have a Bachelor of Business, a bachelor of some other discipline, or no bachelor at all.
Learn about how RMIT Online's Master of Business Administration can further your business career by visiting the website or calling 1300 701 171.