Addressing the future of leadership in a brave new digital world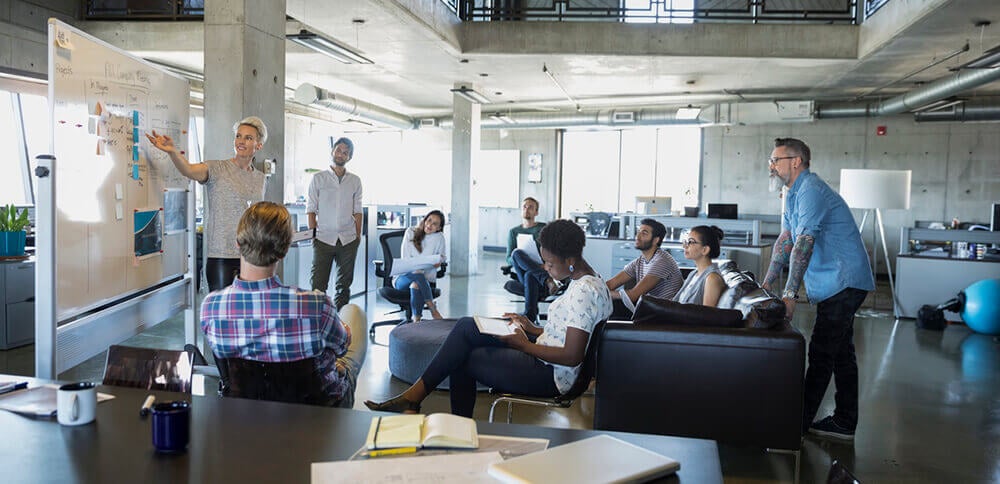 The fourth Industrial Revolution is upon us. It has serious implications for the future of technology, business and the way organisations are led. It's important to consider what this revolution entails, what it might bring and what it will demand of tomorrow's leaders.
But first, a bit of history to put the whole concept in context.
The fourth Industrial Revolution – what is it?
Most people know about the first Industrial Revolution. It began in Britain in the middle of the 18th century; new technology such as textile machines, steam power and chemical manufacturing, as well as factory systems, radically changed commerce and society at large.
The second Industrial Revolution is perhaps less well known, although some of what came out of it is the foundation of the world we live in today: the widespread adoption of electrical power, water and sewage systems; the invention and mass production of the car; and a scientific approach to business management.
The Third Industrial Revolution is the digital revolution. It is, in simple terms, the shift from analogue technology to digital technology.
The fourth Industrial Revolution is very much the next phase in the digital revolution, which hasn't yet come to an end (and very likely won't in our lifetimes). The first phase was about the transformation brought about by the mainstream use of computers, the internet, mobile phones and automated production. This next phase, sometimes known as Industry 4.0, is about how different digital technologies connect and blend with other digital technologies, and with humans themselves.
It touches everything
According to a Deloitte Insights article, titled Forces of change: Industry 4.0, the "The Fourth Industrial Revolution is important to understand because it can touch all of us. "[It] will likely change how we make things, but it could also affect how those things are moved (through autonomous logistics and distribution), how customers interact with them, and the experiences they expect to have as they interact with companies. Beyond that, it could drive changes in the workforce, requiring new skills and roles."
The report suggests that Industry 4.0 will influence every industry and sector, and have the ability to transform products, the supply chain and customer experiences. For that reason, the way business leaders approach this new era is immensely important and will continue into the future.
What will define a leader of the future?
This new wave of technology and its influence on commerce is unavoidable. If they hope to succeed in any meaningful way, those in business will need to carefully consider its effect on operations and processes, tax, supply chains and, of course, manufacturing.  
The stark distinction that once existed between the digital and physical worlds is blurring. That boundary will break down further as the fourth Industrial Revolution continues, creating an entirely new environment that business leaders will need to negotiate.
To do so, they will need to:
Understand emerging technologies to deliver value and growth;
Solve problems using design thinking;
Communicate authentically – establish credibility and trust across teams and networks based on ethical behaviour;
Lead transformative business strategies across diverse organisations in a constantly shifting environment; and
Apply an innovative way of thinking that turns challenges and everyday events into opportunities.
This is not a business-as-usual situation for the corporate world, which means it can't be a business-as-usual situation for education.
Indeed, according to a study conducted by Six Degrees Executive in collaboration with Evolve Research and Consulting, Australia may be in the midst of a "leadership crisis".
A Deloitte summary of the research suggested that "the type of leadership style that worked well in the past is not working as well today", and that current leaders "do not champion and embrace innovation because they are fearful of change, failure, risk and inability to achieve profit goals".
Learning to lead for Industry 4.0
RMIT has created the new online Master of Business Administration (MBA) as a response to the fourth Industrial Revolution, and this potential leadership crisis. This is a course aimed squarely at leaders who want to take on the multitudinous challenges and embrace the myriad opportunities presented by this new digital reality.

MBA Program Director, David Goodwin, describes why you should study the re-defined online MBA from RMIT University.
Although it provides generalist management experience, this is not a traditional MBA. Offered 100 per cent online, RMIT's program aims to produce graduates who can visualise an entirely different future world, a world of seismic digital shifts and previously unthinkable connections, innovations and creations.
It's a program that encourages participants to use design thinking to harness innovation and technology. Graduates will:
Be attuned to Industry 4.0 technology
An RMIT online MBA graduate will be given a metaphorical map that will help them traverse an emerging technology landscape. The program emphasises value creation, digital strategy and the ability to look out for and analyse digital trends.
Solve problems by applying design thinking
Industry 4.0 brings about new problems, the likes of which the business world has never seen before. The RMIT online MBA provides the leaders of tomorrow with an ability to solve these problems, by prototyping and testing, refining products and solutions and developing rich insights, all of which can be applied to processes, business models, management and strategy.
Be authentic communicators
Linear thinking and a one-size-fits-all approach to human resources is a thing of the past. The course asks participants to develop communication strategies applicable to all kinds of people, working styles and situations. It teaches future leaders to manage organisational resources and tasks with an awareness of legal, ethical, social, economic and environmental implications.
Be comfortable with leading change in a changing environment
The fourth Industrial Revolution is - and will continue to be - a time of exponentially rapid change. Business transformation isn't so much something organisations will choose, but have thrust upon them and the RMIT online MBA aims to prepare leaders for just this.
It will allow graduates to apply change management theory and best practice principles, and to implement transformational business strategies. It will also help participants create an environment that is adaptable to future change and rapid innovation.
Be ready to prosper straight out of university
The program incorporates up-to-the-minute short courses and micro-qualifications co-designed with industry. It prepares students for the job of leadership, imbuing them with an entrepreneurial mindset and a resilient attitude to what can be confronting shifts in the world of business.
---
Industry 4.0 has changed the way the world thinks about business. And so too, RMIT has changed the way it educates business leaders through a redefining of its online MBA program. Contact our Enrolment team on 1300 701 171 to find out more.