How data science leaders can make real business impacts
The presence of data science in contemporary businesses continues to increase. According to a 2021 global survey by McKinsey & Company, 56 per cent of all businesses use AI (artificial intelligence) in at least one form - for example, in service operations, product and service development, or marketing and sales.
What's more, survey responses indicated that the business benefits were extensive:
Over one quarter (27 per cent) of companies reported that AI had created at least 5 per cent of their earnings before interest and taxes (EBIT).
Meanwhile, 79 per cent reported decreased costs, and 67 per cent said revenue had increased due to AI.
Finally, nearly two-thirds of companies said they'd continue to increase their investment in AI over the next three years.
As AI grows, the future for data scientists is looking bright, thanks to their critical role in developing machine learning models (a subset of AI). 
Data scientists also add significant value to a business through reporting and implementing automation technologies. According to McKinsey & Company:
Data reporting can increase sales by two per cent and create significant cost savings. For example, using data insights to optimise a supply chain can lead to logistics cost savings of 10-30 per cent.
Automation can increase productivity and create labour savings of 20 per cent or more.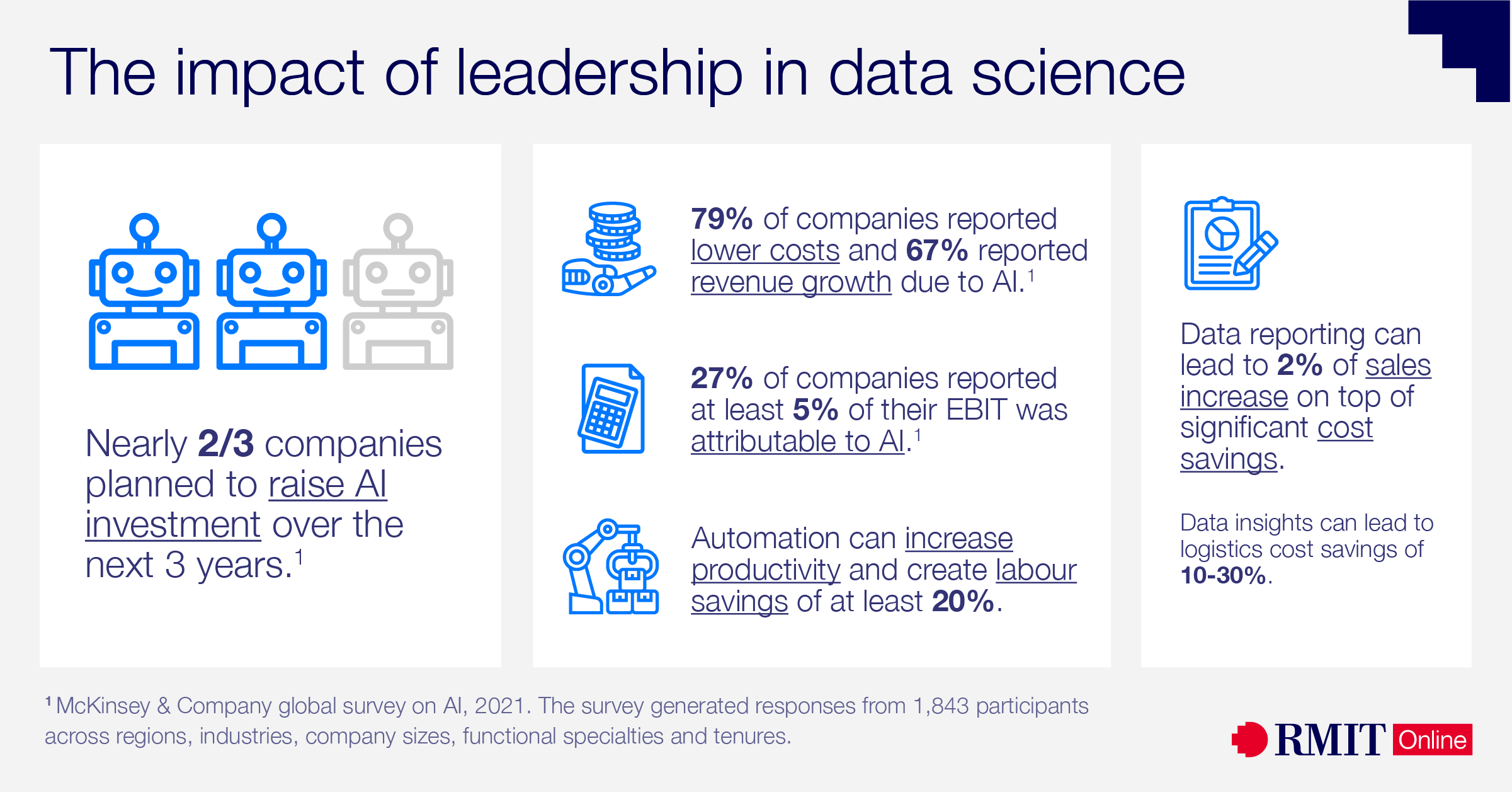 For data scientists with leadership skills, that future is even brighter. But to get the most value out of AI, businesses need to integrate it across their organisation and into the core of their operations. To do that well, they need data science leaders. 
Let's take a look at some real-world examples of successful data science projects to demonstrate how data science leaders can transform business with data analytics. 
How FedEx applied data science to enhance their business
Global logistics giant FedEx enlisted the help of sophisticated AI, machine learning and data analytics techniques to help distribute COVID-19 vaccines. 
To do this, the team at FedEx had to ensure that they could:
maintain vaccine shipment temperatures, since certain COVID vaccines require ultra-cold shipping temperatures to remain viable
deliver the vaccines securely and on time, with minimal delays
provide visibility around each customer's delivery at all times.
To overcome these challenges, FedEx attached a SenseAware ID tracking device to each vaccine shipment. This device can:
detect changes in temperature, humidity, moisture, pressure, shock and light
issue an alert if the shipment leaves its allocated virtual perimeter or geofence
transmit location data every two seconds via Bluetooth to Wi-Fi access points or gateway devices in the company's network. 
As you'd imagine, having all of these tracking devices working at the same time generates a massive volume of data. To help make sense of that data, the FedEx team funnels it into its analytics platform, FedExSurround – and this is where the real data science magic happens. 
FedExSurround brings together various data points, including:
historical FedEx route information
postal codes
weather
traffic
fires
maps.
These data points are fed into machine learning software that uses algorithms to identify the surrounding conditions of each shipment and reroute it if required. As a result, shipments can:
avoid any delays caused by traffic, extreme weather or vehicle/mechanical breakdowns
remain more secure and visible to customers through near-real-time tracking and the capability to send geofencing breach alerts.
As a result of their global vaccine delivery efforts, FedEx was recognised as Asia's best third-party logistics firm for vaccines at the Asia Pacific Vaccine Excellence Awards 2021. Their Singapore supply hub was also named the "Best Supply Chain Hub in Asia" at the Asia-Pacific Bioprocessing Excellence Awards 2020, proving how successful data science leaders can impact a business.
Domino's conquers business problems using data science solutions
Pizza chain Domino's needed an efficient way to deliver consistent quality pizzas to their customers. Some of the company's most common customer complaints had been about pizza quality and consistency. But selling an average of 40,500 Pepperoni pizzas alone per day across Australia made this a considerable challenge. Here's how the data scientists working with Domino's addressed the challenge and made their mark on the business.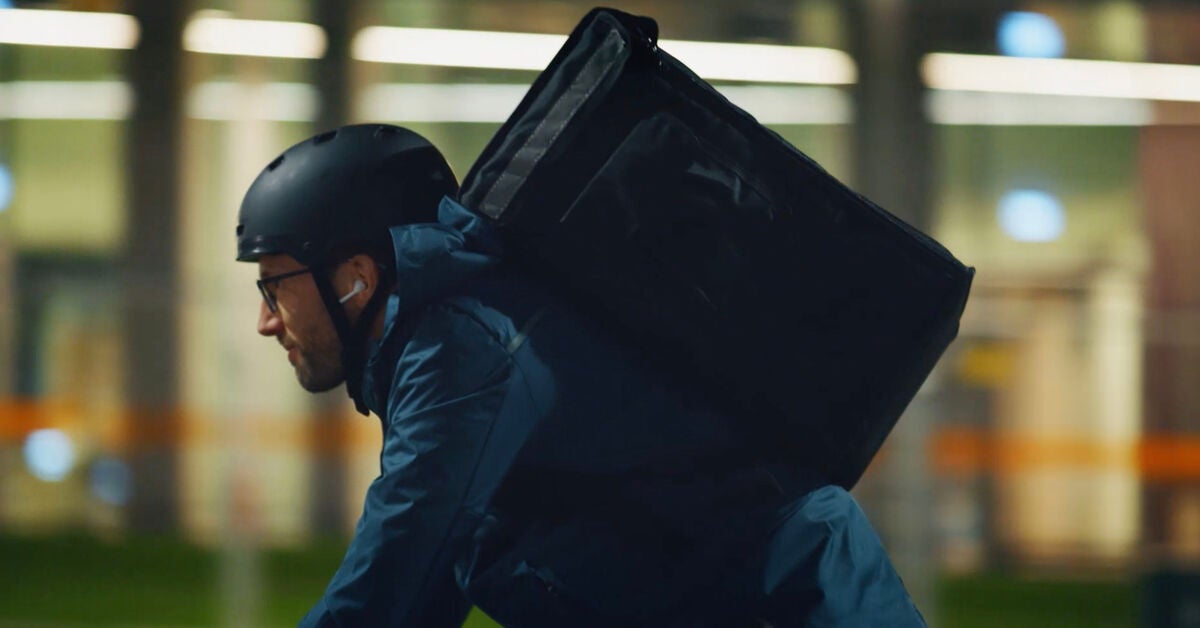 Quality improvements with the DOM Pizza Checker
The Domino's team developed the DOM Pizza Checker as part of their DRU (Domino's Robotic Unit) AI program. Described as an 'electronic eye', the pizza checker has been rolled out in every store. It sits above the pizza cutter bench, and can:
scan each pizza to identify the type
analyse whether the size, crust type, temperature, toppings and toppings distribution are correct (for example, how evenly the cheese has been spread)
alert staff if a pizza fails the quality test
display an online image of the pizza for the customer to see
alert staff if the pizza cutting bench needs cleaning (a feature that was added to allay any customer concerns about cleanliness during the pandemic).
To reduce food waste, pizza that doesn't pass the quality test is donated to community groups. Or, in some cases, staff can offer it as an add-on to customers to make up for the delay while their new pizza is being made. 
After just one month in operation, the DOM Pizza Checker had improved quality scores by 15 per cent. Then, as the technology rolled out to all stores, the quality scores kept on improving. 
Business development data science solutions and customer service improvements
The DOM Pizza Checker isn't the only data science solution that Domino's has employed. The company has also used data science to:
help scout out new store locations for business development
optimise employee rosters by better forecasting staff requirements 
improve pizza delivery vehicle routes.
Data science has even helped to improve customer service with DOM Assist. This AI assistant uses machine learning and voice recognition to enable customers to talk to, text and interact with it before they order their pizza from the app or online.
Marketing improvements 
Finally, data science has helped Domino's to up its marketing game. In 2019, the company launched a 'Points for Pies' marketing promotion for their rewards program members. 
Through this program, customers received loyalty points as a reward every time they uploaded a photo of a pizza to the Domino's app. It could be any pizza, not just Domino's products. 
To make the promotion work, data scientists then built a machine learning model to classify pizza images. They trained the model using more than 5,000 images of pizzas in combination with customer survey responses.
Not only did the campaign generate a huge response from the public, but Domino's also collected a significant amount of data on:
how often their customers ate pizza
whether they bought or made it 
competitor offerings.

Learn how to connect data and unlock business strategy 
The data scientist role is evolving. According to global technology and digital recruitment leader Talent, Australian employers are increasingly looking for 'data strategists'. These are employees with both core data science skills and the ability to strategically solve 'business-critical, complex challenges'. 
We've created our RMIT Online Master of Data Science Strategy and Leadership to help you upskill into a data science leadership role. It's a unique, first-to-market program that can give you the highly sought-after technical and communication skills to lead data teams and solve business problems. 
In this program, you'll learn everything you need to know to apply data science insights across a business to drive cross-functional partnerships and gain traction with executives.
More specifically, you'll learn how to:
apply technical skills that expand your knowledge of data and how to leverage it across sectors and industries
use enhanced communication skills to advocate for data and gain influence at the executive level
effectively lead data science and analytics (DSA) teams or analytics-centred functions to drive business solutions
solve business issues with machine learning and AI
ensure ethical data management and accurate data outcomes.
Delivered 100 per cent online, the program is flexible and convenient, especially if you work full-time and need to juggle study with family and social commitments. We've also structured the content into time-based blocks, so you can manage your studies to fit your lifestyle. 
Your data science leadership journey starts here
Want to be the essential link between data and strategy that businesses need? Become a data science leader with RMIT Online's Master of Data Science Strategy & Leadership.
Data science for business: what you need to know 
Get in touch with one of our Student Enrolment Advisors today on 1300 701 171 and let them guide you through the process of making a move toward your career goals.