Five essential skills for a data science leader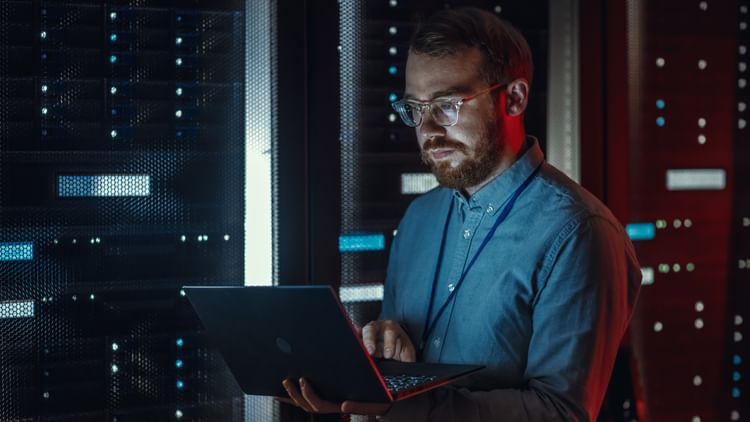 Until recently, it's been unusual for business leaders on the executive or the board to have a great deal of data literacy. Yet, harnessing data has been a major area of interest for many businesses.
The solution? For many businesses, it's simply been to hire a data team. But without data-literate leaders, even the best data teams can struggle to apply their insights to business and gain buy-in with the C-suite.
Demand for business analysts for data science (BA/DS)
Aida Ghalebeigi is a course coordinator at RMIT Online who empowers students with business and data science skills through RMIT Online's Master of Data Science Strategy & Leadership.
"What we are trying to produce are business analysts for data science (BA/DS). That is, people who can formulate problems and design high-level data science solutions, pitch business proposals to management, and then pass them over to data scientists, data engineers and software engineers for implementation," says Ghalebeigi.
As you might have gathered by now, success in a data science role is not just about SQL, machine learning algorithms, Tableau, Hadoop or even Microsoft Excel.
You can harness the potential of data science leaders by developing these five essential skills.
1. Data governance
Data governance is a data management process that sustains high-quality data sets across all business areas through effective data controls. Data governance is less concerned with dealing with structured or unstructured data and more focused on data's availability, usability, consistency, integrity, and security.
Businesses are struggling with data governance. Damning research has found that:
Almost half of all companies in Australia and New Zealand had a data breach in the past year. That half increases to nearly two-thirds experiencing a data breach when you look at all-time figures.
Only a quarter of these businesses can fully classify their data, and half failed a compliance audit last year.
Less than a quarter of businesses in Australia and New Zealand completely understand where their data is stored.
The global market for software that manages governance, risk and compliance has grown eight per cent over the past year. What was a $US 11 billion industry in 2020 is expected to be worth US$15 by 2025. In addition to the traditional data governance concerns, areas of expected growth include third-party risk management (TPRM) and environmental, health and safety (EHS).
The reason businesses are spending so much on data governance is because poor data governance costs money. Another recent statistic highlights that 30 per cent of time spent on data governance is wasted because data wrangling is disrupted – employees can't find, prepare or protect data – let alone use it for business decisions.
2. Data ethics
Data ethics refers to the moral obligations of gathering, protecting and using personally identifiable information. 
The marketing of goods and services online has prompted a lot of discussion around data ethics, which has led to significant shifts in practices, policy, and regulation. Over the next five years, three-quarters of Chief Marketing Officers expect data ethics to play a more significant role in their work.
The American department store Target created one of the most famous examples of questionable data ethics almost 20 years ago. Through data mining, statistician Richard Pole ran a statistical analysis of raw data on the buying habits of Target shoppers to make the pregnancy prediction. Still, he wasn't entirely comfortable with it.
"If we send someone a catalogue and say, 'Congratulations on your first child!' and they've never told us they're pregnant, that's going to make some people uncomfortable," Pole tells the New York Times.
And that's what happened. One day, a father stormed into his local Target to complain about the baby clothes catalogue that Target mailed to his daughter, who was still in school. It turned out that Target knew more than dad did.
Ghalebeigi points out that ethical fails like this emphasise the importance of data science leaders developing soft skills such as data ethics for effective decision-making.
"The skills required for these BA/DS are not just technical skills in machine learning, artificial intelligence (AI), logistic regression, end-to-end machine learning models and data governance. They also need soft skills in presentation and communication, design science, project management and data ethics."
Skip forward a couple of decades, and the World Federation of Advertisers has released a guide for brands on data ethics. The research that went into the guide uncovered that less than half of the surveyed companies had a data ethics policy in place.
3. Communication skills across business and data science
For a leader who wishes to bridge the gap between business and data science teams, communication is critical to stakeholder's buy-in. This skill set includes mobilising data teams, advocating for data up and down the organisation, and breaking down complex terms into understandable language for non-technical stakeholders. 
While many business leaders may wish to use data effectively, the ability to understand data - let alone leverage it for business - can be beyond many leaders. Consequently, there has been an increased demand for leaders who can zero in on the best opportunities that data science can offer.
"We position our graduates as the manager between the business and the data scientists. So, they need to communicate with data scientists, and they also need to communicate with business – and translate between them," says Ghalebeigi.
In addition to greasing the wheels of productivity, communication skills in business and big data also builds trust. Being able to communicate in both areas is a little bit of a superpower.
4. Data science problem-solving
As part of RMIT Online's Master of Data Science Strategy & Leadership, students gain the problem-solving skills to solve a business problem using data science. From there, they can communicate solutions up to business leaders and down to data science teams.
Ghalebeigi emphasises the importance of developing data science problem-solving skills for business.
"For the whole program build, our driver was to position graduates in a business analyst role for the data science world," says Ghalebeigi.
In the 2020 Women Leading Tech Awards, Mohadeseh Ganji received the Women Leading Tech award for data science. When asked to describe her data science career with ANZ bank, Ganji goes straight to problem-solving.
"I spend a lot of time discussing complex problems with my team and colleagues, trying to both find solutions to immediate problems the business and customers are facing and also take the learnings to build and uplift capabilities of the future," Ganji tells B&T.
Ganji sees the problem-solving side of data science projects as a soft skill that invokes her creativity.
"The beauty of data science is that it not only solves problems but helps businesses to ask better questions."
5. Leadership and management
An increasing number and variety of businesses are seeking data science leadership. In fact, data practitioners are now being put in C-suite positions in many organisations.
The not-for-profit aid organisation Oxfam Australia recently advertised for its first Chief Data Officer (CDO) after a cyber attack earlier in the year. Oxfam Australia reviewed its executive structure after the data breach that exposed the contact details of 1.7 million supporters. Despite having data analyst capabilities in several teams across the country, data leadership and management was lacking in senior management.
The Institute of Analytics Professionals of Australia (IAPA) has recently ranked the top 25 data analytics leader in Australia and put Lionel Kho, Vice President of Data and Analytics at Dentsu International, in the top spot.
Kho began his career with a computer systems engineering degree and returned to study to complete a postgraduate qualification in business with RMIT. Once he combined his technology know-how with business qualifications, his data analysis roles evolved into leadership roles – leading to his current role as the executive of Dentsu International.
"A big part of my role is to help upskill our teams and our clients, as well as leading the ongoing development of Dentsu's data and analytics craft, technologies, and capabilities," Kho tells the Australian Financial Review.
Kho is using the recognition of the IAPA to advocate for more cultural diversity in executive leadership in Australia. He's also keen to see more data science professionals moving into leadership roles to improve business outcomes across the board.
How can you develop the skills of a data science leader?
Management and leadership, along with the other essential skills for a data science leader, lean heavily on a soft skill set that includes ethics, communication and problem-solving. You can develop your abilities in these areas with units such as Leading in the Age of Digital Disruption as part of the Master of Data Science Strategy & Leadership.
And if you're not from a technical background, Ghalebeigi reminds us that the Master of Data Science Strategy and Leadership will also build your programming skills in programming languages like python. It will also aid your understanding of algorithms, linear algebra, exploratory data analysis, data visualisation, and visualisation tools for data science jobs.
"The program provides technical skills required for a data science leader. It includes undertaking technical skills required to understand and present the results and insights obtained from the data, as well as organisational skills in data science strategies," says Ghalebeigi.
Learn about how RMIT Online's Master of Data Science Strategy & Leadership can make you a data-driven business leader for the future. Visit our website or call 1300 701 171.