Why choose RMIT Online for your postgraduate qualification?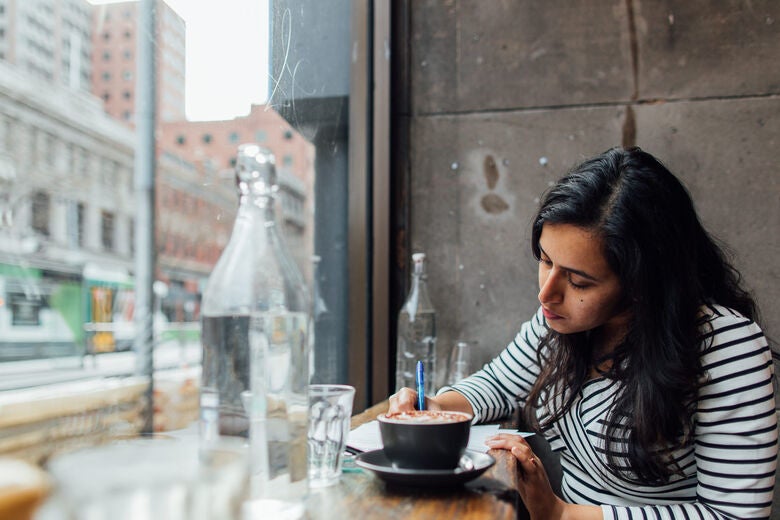 Gone are the days when a single university degree could be relied upon to stay relevant for a person's working life. In a fast-paced world, can we really expect the skills and knowledge we learned in our early 20s to still be relevant long into our future careers?
RMIT Online will help you keep your skill set relevant and grow your potential from anywhere you like - whether in person or online.
Our courses are 100% online and backed by RMIT University, which has gained a worldwide reputation for effective industry-driven training by expertly navigating the world of work for decades.
Our research shows that, now more than ever, there's a great need for highly skilled individuals to sustain our nation's economic recovery.
RMIT Online programs are designed to guide career-driven individuals to gain the real-world skills they need for the jobs of tomorrow.
What's the difference between RMIT and RMIT Online?
The difference between RMIT and RMIT Online is in the mode of delivery – one is on campus; the other is online.
Studying at an RMIT campus is a good option if it's convenient for your lifestyle and you'd like to attend classes in person.
Alternatively, you can choose to study your degree via RMIT Online, which allows you more flexibility and the ability to study when and where it suits you. Online study is a great choice if you want to keep working full time while studying, prefer studying at home, or simply don't live close to an RMIT campus.
Whichever option you choose, you can still expect the same quality of education, engagement and support.
5 reasons to choose RMIT Online for your postgraduate degree
Deciding to pursue a postgraduate degree can be a daunting task, but choosing the right institution can make all the difference. With so many options available, RMIT Online stands out as a top choice. Here are five reasons why you should consider RMIT Online for your postgraduate studies. 
Learn real-world skills from industry experts
RMIT University has always worked alongside industry and business experts to upskill graduates for constantly changing workplaces. It's known for its hands-on, job-ready programs and strong industry connections.
RMIT Online extends these partnerships, to supply the demand for emerging skills and to bolster the future employee pipeline.
We work with over 80 industry partners – including the likes of Adobe, Salesforce, Accenture, REA Group, Apple and IBM – to prepare our students with relevant skills in new technologies and business approaches.
We've drawn on the insights of these leading companies to design a number of RMIT Online programs such as the Graduate Certificate in Workforce Transformation, developed with Deloitte and Workday.  
Our industry connections mean our programs remain relevant. That's why our graduates are prepared to tackle real-world business challenges – now and into the future.
Gain an education from a globally recognised university
RMIT University is one of the most notable universities globally, ranking 281 globally in Best Global Universities 2021.
As a university that sits at the forefront of the industry, cutting-edge design and technology, RMIT has cemented its position as a strong performer across 15 global ranking schemas.
You'll find us among the top higher education institutions in research, graduate employability and innovation. We're also making progress towards the UN's Sustainable Development Goals (SDGs).
Placed 223 in the Quacquarelli Symonds [QS] rankings, which are the crowning glory of higher education ratings, RMIT University holds a sought-after spot. While the QS rankings evaluate the entries of over 5,500 universities across 80 countries, fewer than 20 per cent earn a position. 
Join a community of lifelong learners
We've made upskilling easier than ever. All it takes is an internet connection to access RMIT Online and your device becomes your campus.
Our user-friendly learning modules are available on any device, at any time, in any location. You can just log in and study on your schedule. That means you can gain a highly recognised education with study that fits into your lifestyle.
RMIT Online is not only accessible, but connectable – so you won't miss out on the campus camaraderie. In fact, you'll build a lifelong career network from near and far.
Our interactive programs are designed to foster collaboration, share ideas and build a sense of community with students who are on the same journey as you.
Developed by learning design experts, RMIT Online programs will unlock your potential. No matter where you are, you'll get personalised student support. Our success advisors will become your individual performance coach – so you can achieve your career goals.
Access world-class support and resources
RMIT Online recognises the value of providing its students with the necessary support and resources, especially during research projects to help fulfil their academic goals.
Listed below are RMIT's various student support teams:
Supervisory team
School of Graduate Research (SGR
HDR Delegated Authorities (HDR DA
HDR Student Representatives
Offshore student drop-in sessions
Travel and funding
Students would also have the opportunity to utilise a diverse array of platforms and tools. In terms of study support, the RMIT Library is accessible both on campus and online to support research needs. Seminars, workshops and guides are also available to improve one's research knowledge and presentation skills.  
At RMIT Online, we understand that pursuing higher education can be quite overwhelming and challenging. That's why we offer all our students access to a wide range of assistance from wellbeing, legal, financial and IT support to ensure they can succeed academically and professionally.
Additionally, our commitment to diversity is reflected in our international student support assistance. We also offer help through our personalised Candidate Action and Support Plan (CASP) for students who are facing challenges.
RMIT Online has gone above and beyond in ensuring that its students receive optimal online support to help achieve their academic goals. These resources and support services help students stay engaged, focused and motivated throughout their academic journey. RMIT Online provides the advantage of these resources and support services to unlock your full academic potential.
Learn the future skills you need to excel
RMIT Online allows you to future-proof your career. Think of our programs as an investment in your own abilities and job progression.
Linking up with industry, we know where the skills gaps are in today's employment market. We can also forecast what the key drivers will be for the future of work.
Our programs are designed to deliver work-ready skills and turn our graduates into valuable team members in the workforce – for today and tomorrow.
RMIT Online has its finger firmly on the pulse when it comes to keeping up with rapid transformation across business. Our programs will ensure you stay relevant in a fast-changing world.
RMIT Online offers an exceptional learning experience that equips you with the skills and competencies you need to succeed in your career.
Gain a world-class education for the future of work
So, what are you waiting for? Take the next step towards a bright future and reach out to our Student Enrolment Advisors or call 1300 701 171 to let them expertly navigate you towards your desired postgraduate degree today!