×
Download my brochure
Find more detailed information on our
programs, including:
Program fees
Career pathways
Course descriptions
Workload and tips
Academic profiles
By submitting this form you agree to be contacted by RMIT University regarding furthering your education.
Privacy Statement
Why study the RMIT Online Graduate Certificate in Data Science?
Leadership for Industry 4.0
Success in Industry 4.0 isn't just about thinking different, it's about making different happen. Learn to lead in the new business world where authenticity, ethics and empowerment are critical to individual and organisational performance.
Gain knowledge, build networks
The highly social, online learning platform not only gives you access to current, industry-informed content but also connects you with academics and students across time zones. Build strong, business relationships that know no limits.
Enrolment intakes every two months
Study in any one of our six teaching periods each year. You only study one course at a time across each seven-week study period, meaning your learning is consolidated, focused and fast-paced.
Take the opportunity of big data
RMIT Online's Graduate Certificate in Data Science is designed to give people with a non-technical background the critical foundations of programming, analytics, data wrangling and visualisation that employers are demanding now - across functions and industries. It's for those who want to remain at the front of their field and who know that with hybrid roles (functional specialists with data science capabilities) increasing, these skills will immediately add value to your organisation and your CV. 
The program has been created for functional and data-driven specialists who see expanding career opportunities if they upskill their data science capabilities. It's for consultants, business, marketing, data, financial, product, and web analysts, and for those who seek to create their own unheard-of roles from the endless opportunities big data and technology presents.
The courses in this program are also foundation courses of the Master of Data Science Strategy and Leadership, allowing you to continue your studies and further develop your skills to become a senior leader in data science and analytics.
---
---
8 months intensive,
part-time
---
Jan, Mar, May, July, Aug, Oct
---
$3,720 per course, FEE-HELP available
What the stats say about the demand for hybrid roles
where data science and analytics are core skills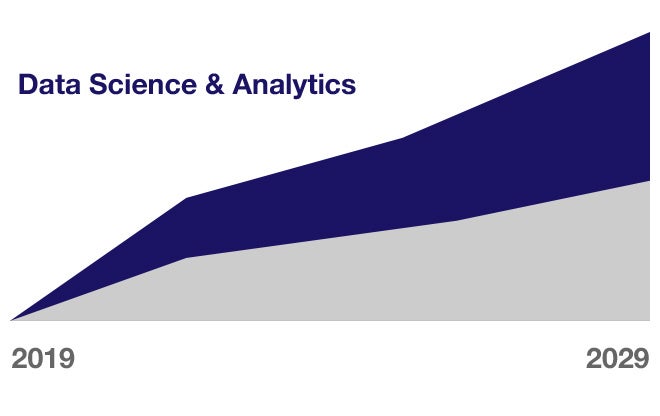 Hybrid jobs will grow 21% over the next 10 years, double the pace (10%) for jobs overall
Burning Glass, Hybrid Jobs Report 2019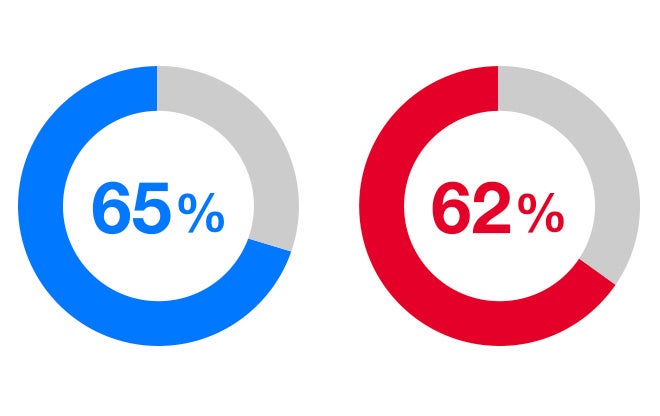 65% of the fastest-growing and 62% of the highest paying skills in these hybrid job fields are computer-science related
Burning Glass and Oracle Academy Report 2017
The RMIT Online Graduate Certificate in Data Science is comprised of four core courses.
Practical Data Science with Python
Applied Analytics
Data Visualisation
Data Wrangling
Get more information about what you will learn in each of these courses.
Pathways
Upon successful completion of the Graduate Certificate in Data Science, you may continue on to further study at the master degree level. You could continue your studies and further develop your skills to become a senior leader in data science and analytics with the 100% online Master of Data Science Strategy & Leadership.
One of our Student Enrolment Advisors can provide more infomation and discuss your individual circumstances.

Graduate Certificate
4 Courses
or continue studying

Masters degree
+8 Courses
RMIT's 100 per cent online intensive postgraduate degrees are designed specifically for an online experience. 
Our specialist online learning designers and renowned academics collaborate to craft engaging, interactive content, making the experience enjoyable. 
Network with your peers via online chat and course-based discussion groups as you gain the real-life skills you need to progress your career. 
You'll receive the same qualification as you would studying on-campus.
Download my program guide
Our comprehensive program guides provide more detailed
information about our online programs, including:
Eligibility and enrolment
Program duration and fees
How to manage your studies and work life
Program entry and exit pathways
Ask a question
Speak with one of our Enrolment Advisors to ask
questions about your future study:
Determining which program is for you
Understanding how online study works
How to apply and enrol
It's Popular
people downloaded a course guide in the last 24 hours.
×
Download a program guide
Find more detailed information on our
programs, including:
Program fees
Career pathways
Course descriptions
Workload and tips
Academic profiles